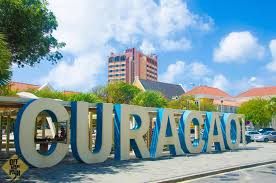 On the 27th of December, I travelled together with my wife's family to the isle Curaçao. Her father was able to book an all inclusive vacation for one week for the whole family (6 adults and 1 teenager). This allowed us to celebrate New Year Eve in a beautiful landscape together with the family.
Read below our travel report about our key learnings of our first visit on the isle of Curaçao.
Our Flights
First time of my life I took a flight with a Venezolean airline, called Avior Airlines. Our first flight left with 4 hours delay. We arrived around 4 AM in Curaçao. What was interesting for me, was the fact that this airline uses old Boeing 737-400 airplanes. It even has Fasten your seatbelt in Russian descriptions. Inside the plane, I encountered below message about how to use my seat as a flotation device. I travel more than 30 years with airplanes but this is the first time I see such a message…it made me wonder about the safety of the plane.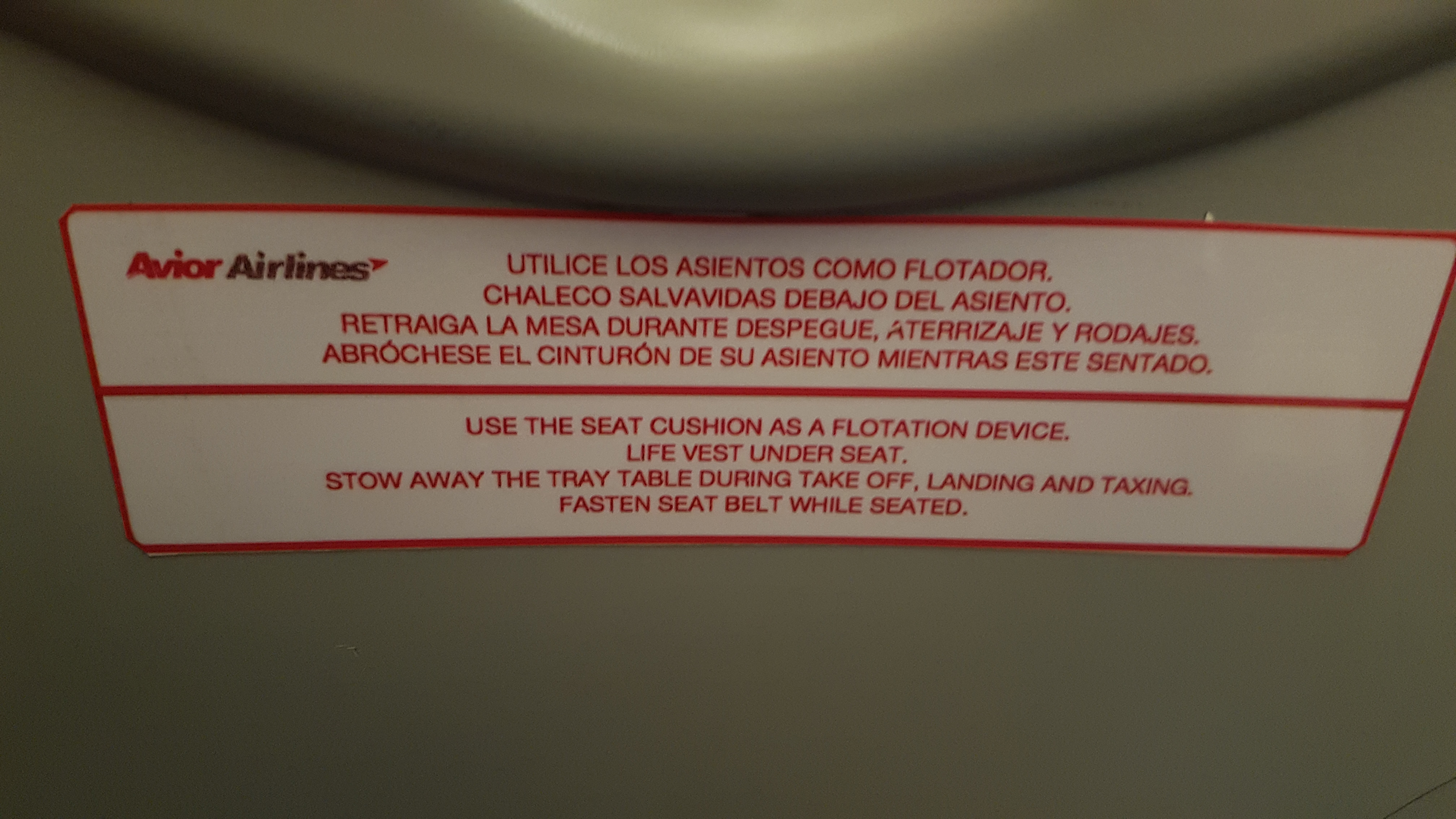 I also found an instruction how to use a sickness bag…lol. Who doesn't know that ? The flight coming back from Curaçao also had a 1,5 hour delay. The flight doesn't have ANY services…no drinks, no food, not even a cup of water…NOTHING. The flight attendants switch off the lights after take-off and expect all passengers to sleep, I guess. After all, this was an interesting experience. Will I use this airline again in the future ? Maybe but chances are small !
Our Highlight Visits
As we spend one week in the isle, it was important to plan our time well. Like its sister islands, Aruba and Bonaire, Curaçao's warm waters are ideal for scuba diving, snorkeling and other water sports. Unfortunately we didn't plan a snorkel boat trip.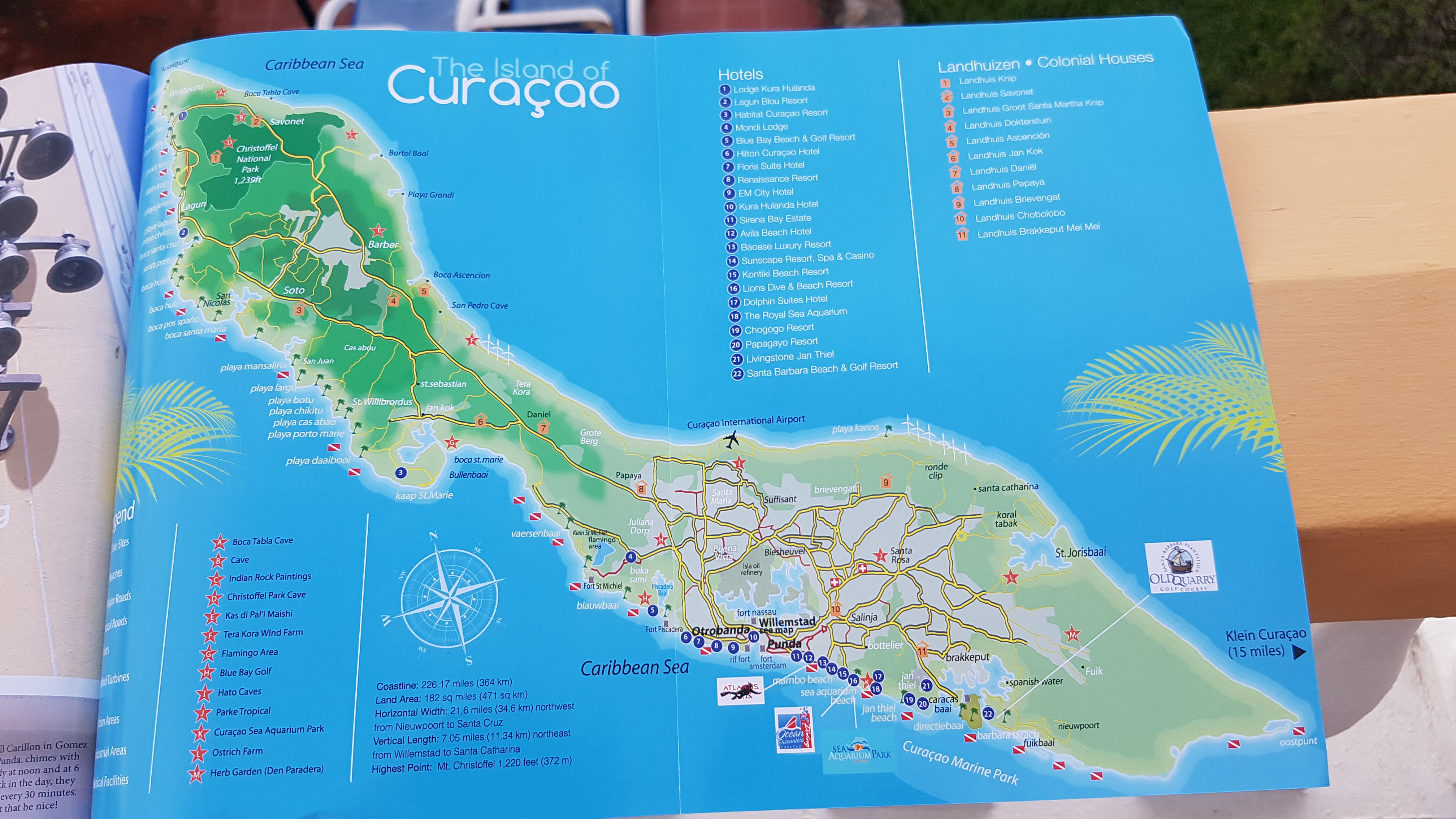 First days we relaxed at our hotel location as we arrived late in the morning. As we were staying in the top west point of the isle, the best option to explore the isle was to rent a car. I rented a car for three days so we could also go to Willemstad, the capital for New Year's Eve night celebration.
On 31st December we visited Willemstad with the Queen Emma Pontoon Bridge.
Spanning the St. Anna Bay, the Queen Emma, or also known as the "Swinging Old Lady," is a floating pedestrian bridge that connects Willemstad's two halves, Punda and Otrobanda. Built in 1888, the Queen Emma Bridge is supported by 16 pontoon boats and swings open laterally to allow ships to enter and leave the bay. During lunch we enjoyed having a meal while marveling at boats sailing through the open arm of the bridge.
On the Punda side of Willemstad is also Handelskade, that picturesque stretch of pier you've seen on every Curaçao postcard. Colonial Dutch buildings painted in brilliant pinks, blues and yellows line the waters of St. Anna Bay. During the afternoon we grabbed a seat at one of Handelskade's outdoor cafes and watched the Queen Emma Bridge swing open to let ships into the harbor.
During our visit we searched for a  great location for New Year's Eve. We booked a dinner with live music and buffet at La Bahia. La Bahia, located at the Otrabanda Hotel, has an internationally oriented kitchen. The view is breathtaking. A great location to watch the fireworks within the city we thought…well we didn't get disappointed. It became a fantastic evening full of great food, dancing, fireworks and New Year celebrations with my wife's family.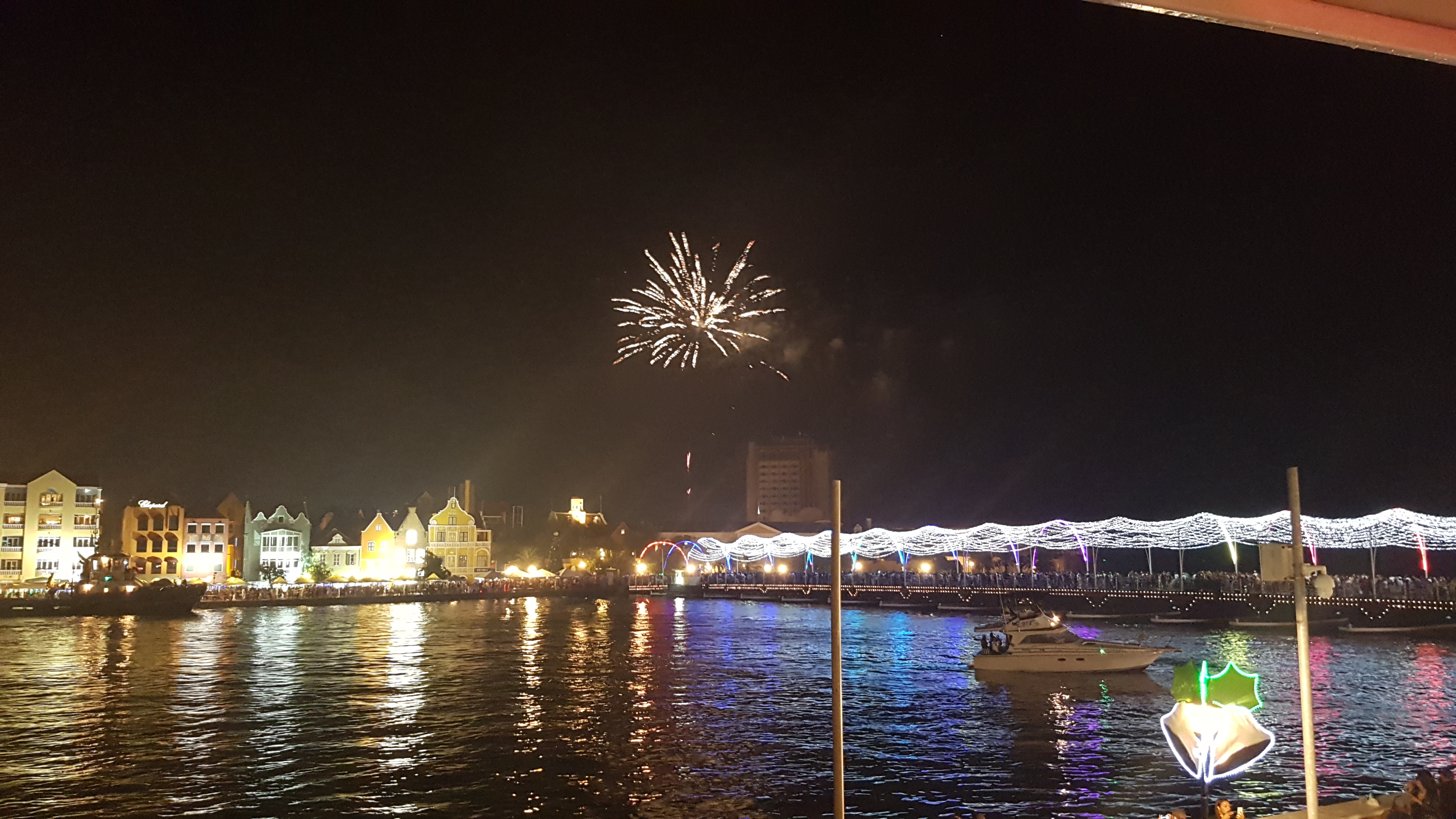 We also wanted to visit Christoffel National Park. This park houses indigenous flora and fauna, such as barn owls, the rare and endangered Curaçao White Tailed deer and 450 species of plants, including wild orchids. While you can take a scenic drive through Curaçao's largest national park, hiking is the best way to experience Christoffel's rugged landscape. We wanted to climb the Christoffel mountain to take the view from the top. You can climb the peak and back in two to three hours, but due to the high temperatures and lack of shade, the park doesn't allow people to start their hike after 11 a.m. So we arrived at 8 am, unfortunately the park was closed due to the holidays. This was not indicated on the opening hours board outside of the park.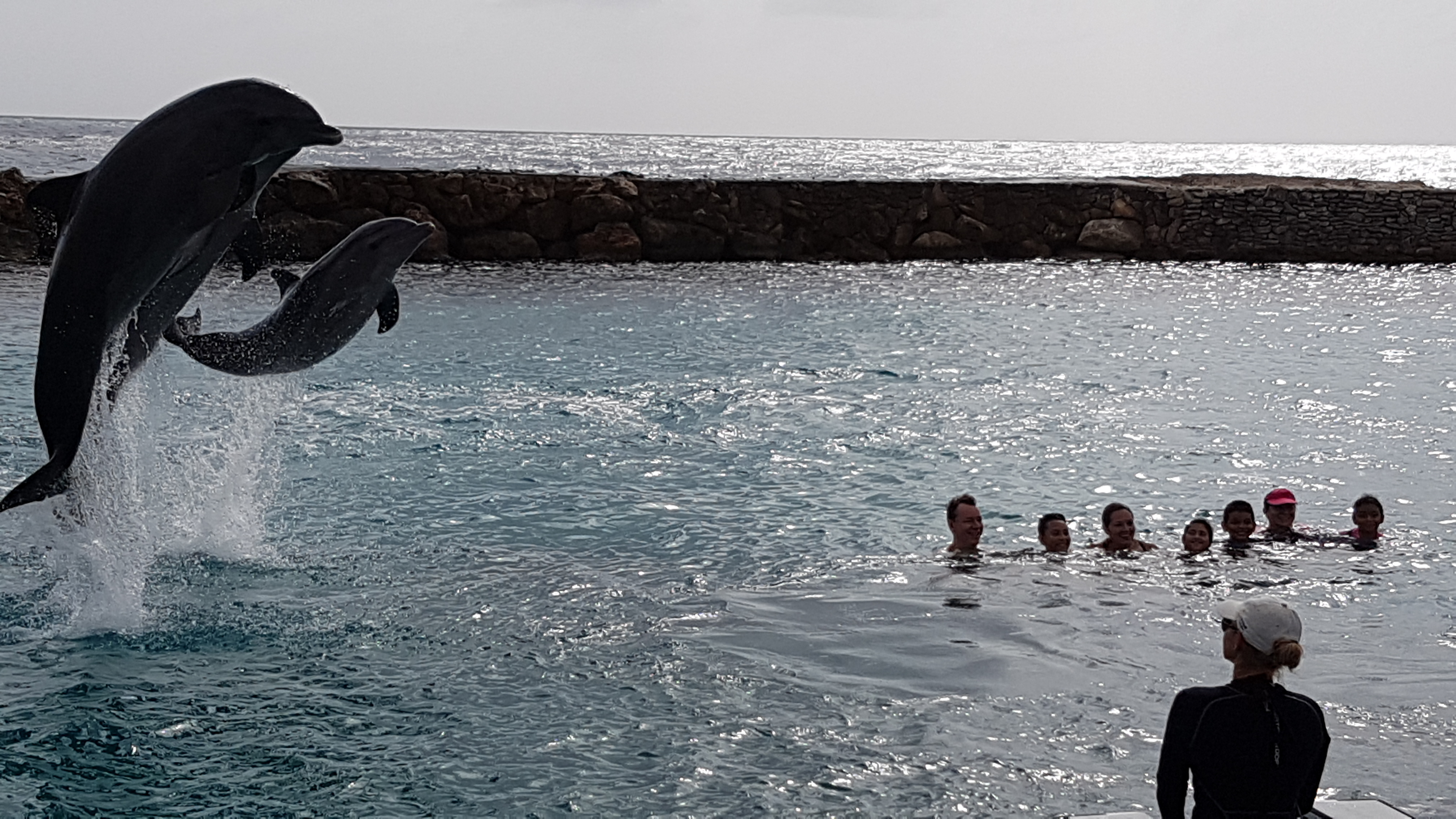 On the 1st of January I had arranged a swim encounter with Dolphins at the Sea Aquarium park. All Dutch trainers speak Dutch and/or another language such as Spanish and English. Groups get broken out by language. As this was the first encounter for my wife and her son with dolphins, both were a little nervous. The professional explanation and approach during the encounter took quickly all worries away and the swim with dolphins became  another great life experience. The smiles at the end of the 30 minutes swim make me happy ! At the end there was also an educational video that we need to take care of our planet and our sea so we can keep on enjoying our time with the dolphins in the future. Limit the amount of plastic you use and recycle your waste as much as possible !
For bookings of your swim with dolphins, here is the URL link
At the end of the afternoon we enjoyed a swim and drinks/snacks at a terrace at Mambo Beach. This beach located just 4 miles east of Willemstad features the bright white sands, the crystal blue waters, and a  sand volleyball court. The area also offers a boardwalk lined with shops, restaurants and many bars.
Next day we visited the beautiful national park Shete Boka.  This is an area with more than 10 beautiful Boka's (inlets) where three species of turtles nest. A boka is, in fact, an inlet. Shete Boka stands for 'seven inlets'. Years ago, the environmental group Amigu di Tera arranged excursions in this area along seven bays. Hence, the name is taken, although in reality there are more than seven coves in this national park. The park begins at the beautiful Boka Tabla where large, unpredictable waves crush against an underground cave. An impressive experience!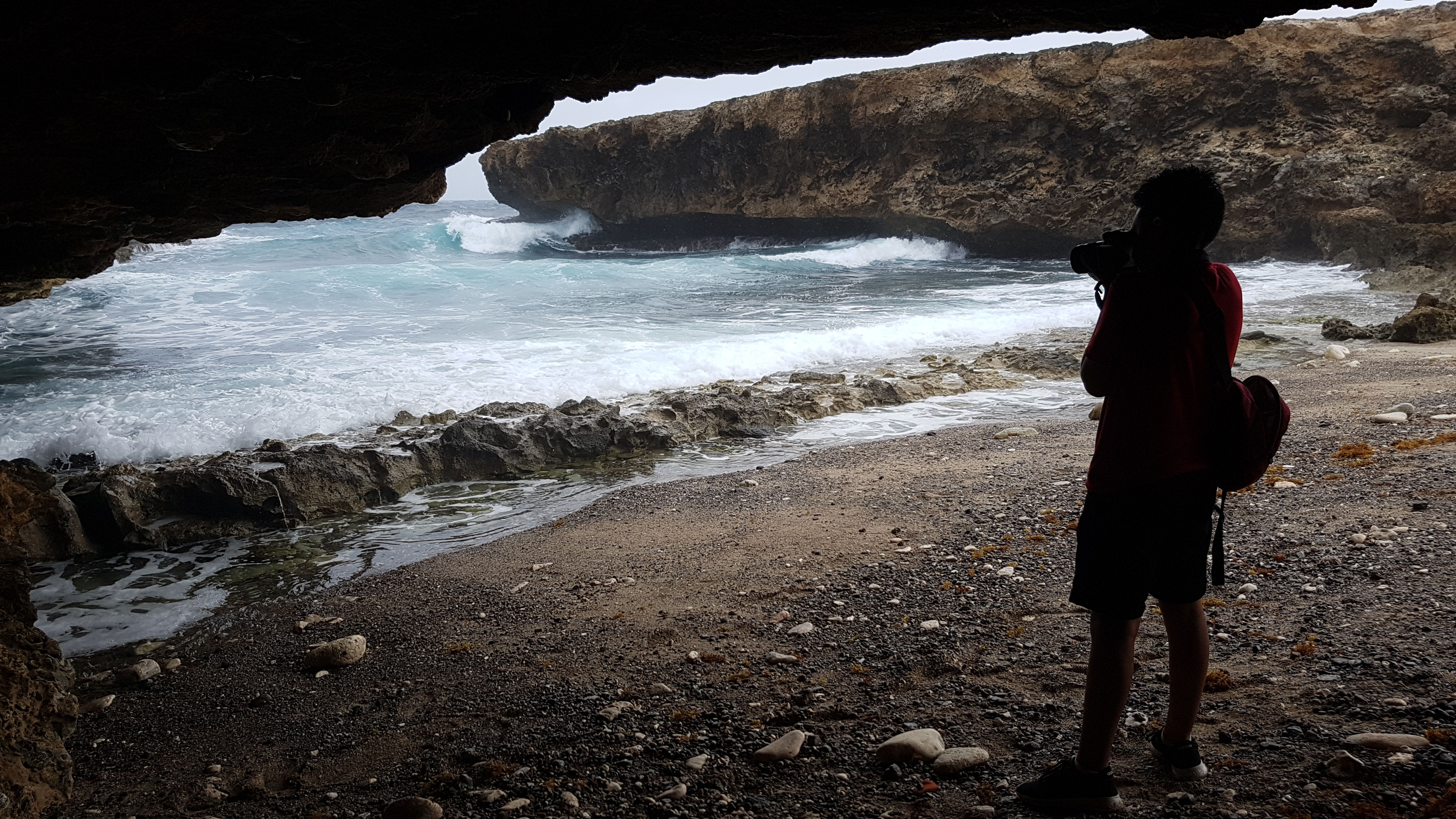 We also visited the flamingos areas close to Fort Sint-Michiel and other interesting spots. In the evening we enjoyed making fotoshoots with the sunset. Take a look at an amazing pic below.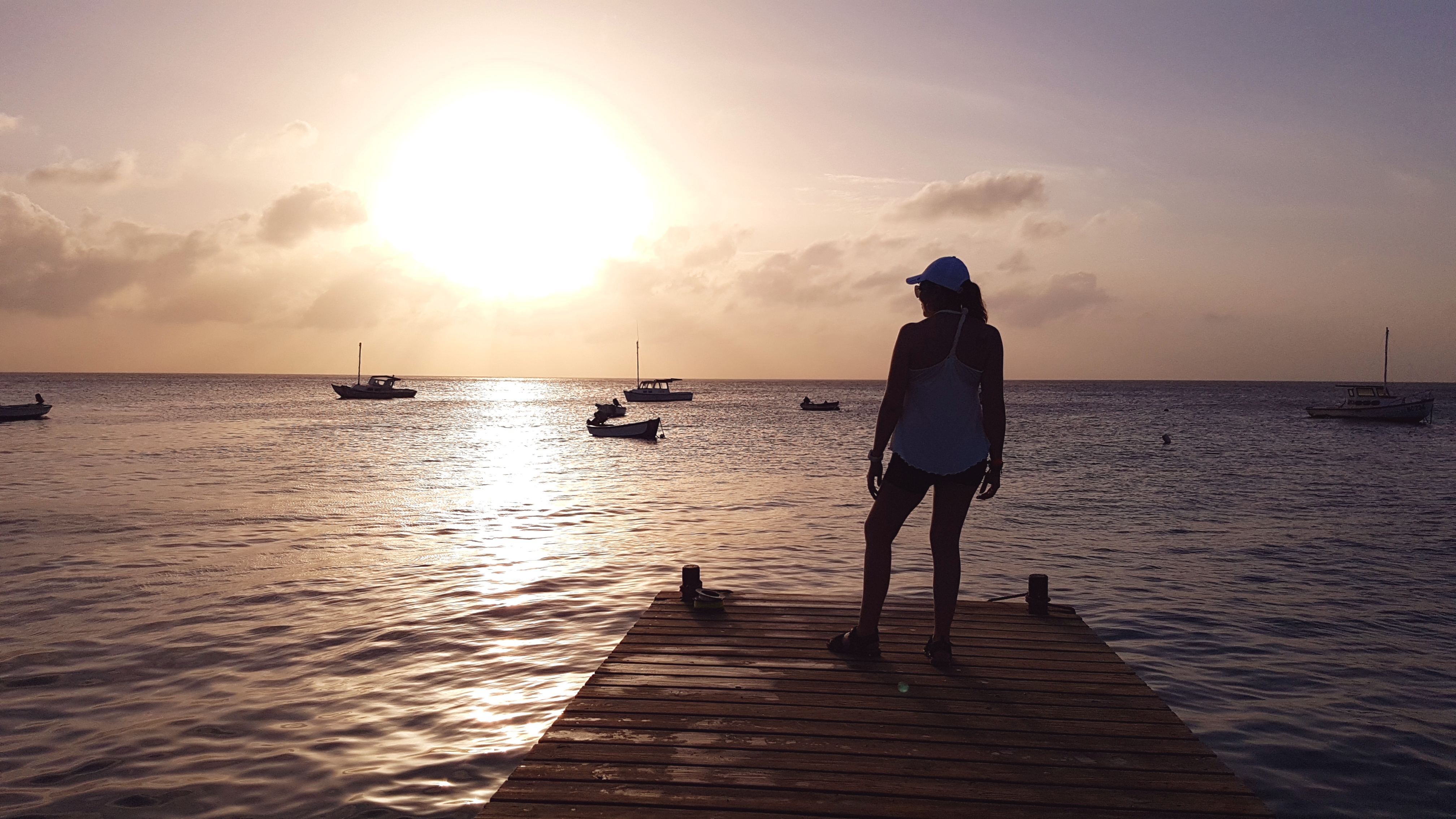 The last days we relaxed at the beach and enjoyed swimming in the blue ocean.
Our Vacation Location
Our hotel was Kura Hulanda Lodge & Beach Club. 
The hotel is in West point of the isle and 40 minutes drive from the capital Willemstad. It is far way from everything except Christoffel Park. The pictures on Tripadvisor of the hotel look better than the hotel is in reality. The rooms are a bit "overused" or "need an upgrade". The same applies for the rest of the hotel. Tiles on stairs are broken and the toilets at the restaurant and reception are broken and have a terrible smell. During the buffet time it happened often that there was a lack of knifes, forks, cups or sometimes food. Everything got fixed after some time when a dedicated employee noticed…though. The staff is very helpful but some people definitely need guidance and training. So it seems that there is only one lady who can replace the gas within the coke machine….really?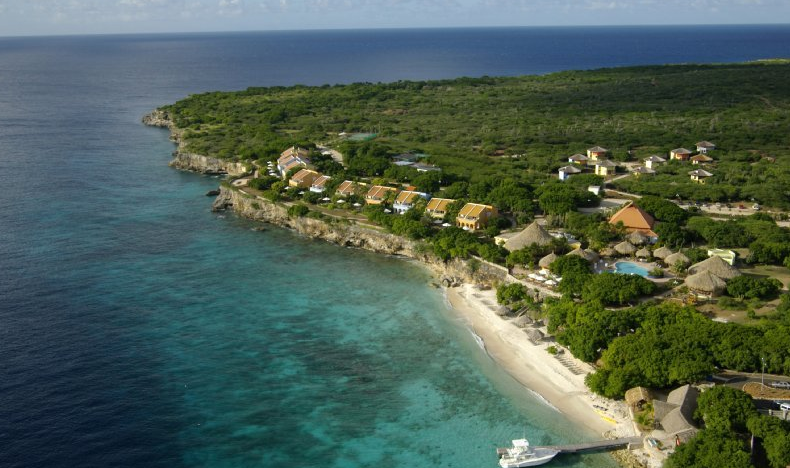 Well…I am not going to complain a lot as we enjoyed great family time together with the shortcomings that the hotel had. I have been in much worse places while travelling business or for leisure. The hotel reception showed a 3,7 rating at www.hotels.com but I think a 2,5 or 3 would be a more fair overall rating.
The beach is great but watch out for the stones underwater. Many family members did cut their leg or feet. Take also a medicine against insects with you as I got bitten 15 times in my feet, legs and hands…Don't say I didn't warn you !
Last but not least some words about WIFI availability. If you are a social media or work addict and need WIFI in your room, don't count on it. It is only available at the reception and at a slow speed at the bar/restaurant. Also in cafes WIFI availability is not standard on the isle. Be aware !
Final Words
Curaçao has a lot to offer and it is definitely a paradise isle to visit once in your life. It is a pity that we could not visit Christoffel park and do a snorkel boat trip but in the short amount of time, we visited the most important highlights of the isle. In the future we can visit Aruba or Bonaire isles who are part of the Dutch Caribbean group.
The fact that there was almost no WIFI available forced me to disconnect from work and social media. Always a great feeling to be honest !
Did you travel during the vacation week of Christmas or New Year's Eve ? Let us know. Where should we go next year ?
Thanks for following us on Twitter and Facebook and reading this first 2018 blog post. We end with a quote as always.