Starting from 1st January 2017 we are managing four portfolios and we will report out on periodic basis the growth and dividend income from those portfolios. Read below our past performance summary.
Each portfolio has a different objective.
MY PERSONAL PORTFOLIO : Build the way to financial independence with a passive income of 3000$ per month
MY MOM'S PORTFOLIO : Support my mom's retirement and health plan with a passive income of 800$ per month
MY KIDS PORTFOLIO : Grow the size of my kids portfolio to 30.000 Euro and generate a passive income of 300$ per month
MY FOSTER CHILD PORTFOLIO : Grow the portfolio to at least 5000 Euro for the future financial buffer of my foster child in Nepal
If you read our Financial Strategy, you know that we apply a methodical approach to dividend investing. We go for cash flow and dividend! A lot of dividend! Our strategy is very different from other bloggers as we focus on CASH FLOW and at least 8 % DIVIDEND. If possible we target for stocks and ETF's paying at least 10% dividend on a monthly and quarterly basis. The majority of the bloggers focus on dividend achievers or dividend aristocrats with yields between 2 – 6%. Those stocks or ETF's are NOT interesting for us.
The second difference with many bloggers is their step 2 in their strategy. They always talk about savings and savings rate…but if you want to do it correctly, you have to PAY YOURSELF first. What's the difference you may say…well, we put fixed amount aside of our salary each month from the moment it is paid. Look at the below graph of another blogger that illustrates the result if you save what is left for the month after all monthly expenses. We don't transfer what is left on the end of the month. We live according to our most optimal frugal expense ratio. It requires a different mindset!

We started with small amounts three years ago and fine-tuned our strategy year after year. Going forward we will be posting our Yearly Dividend Income for the three portfolios on this page and also the growth of the portfolio of my foster child.
Past Years Performance
You can find below the yearly dividend income growth of MY PERSONAL PORTFOLIO for the years 2015 and 2016. There is no dividend income for the other portfolios as we started at 1st January 2017. Great progress so far ! We continue to apply OUR FINANCIAL PORTFOLIO STRATEGY on a consistent basis going forward!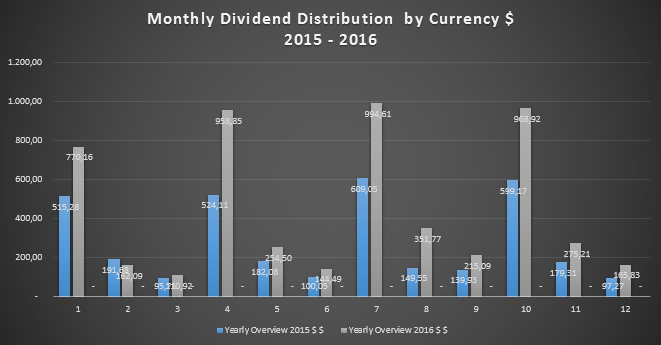 If you want to know all our 2017 Goals, read our blog post on how we reflected on our 2017 Goals
If you like my blog and want to support my foster child Anisha, please press the DONATE button below and give a small contribution with Paypal which I will fully fund to the KEYPLAN of my foster child. Every donation will be mentioned on my foster child's blog page with the sponsor name. If you want to remain anonymous, I will respect that and just mention your country.
I want to thank you all for reading this and you can follow the portfolio of Anisha here on this blog. You can also change someone's future if you want. Know your financial net worth and plug it in your financial plan. The world will be a better place if everyone makes a little effort. THANKS IN ADVANCE FOR YOUR SUPPORT!