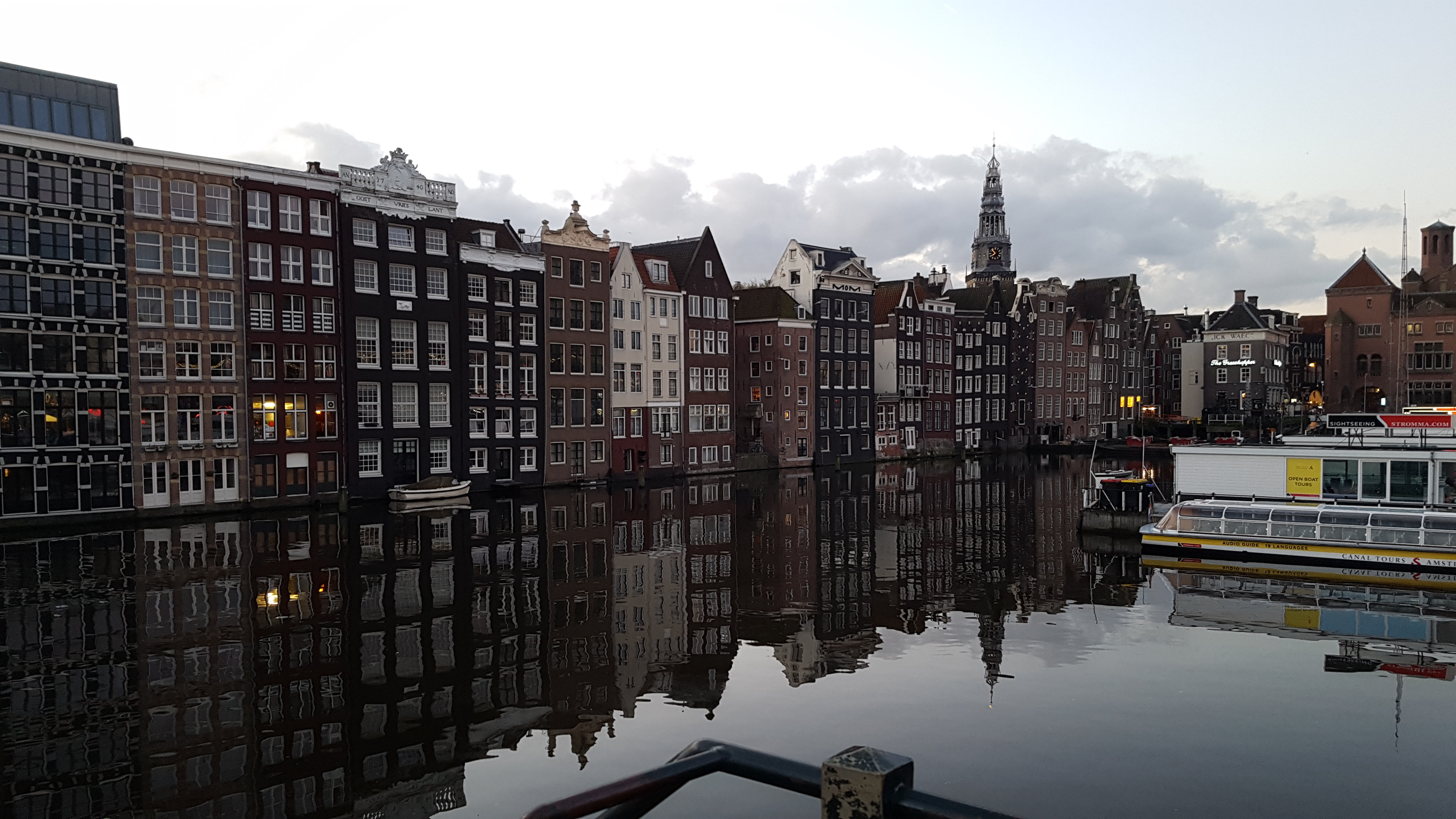 On Friday 17th November, I had scheduled in my calendar for months a visit to Beleggersfair in Amsterdam, Netherlands. The events in the Netherlands focus more on teaching  investors and have greater investors' content compared to Belgium. In Belgium you won't find Masterclasses or presentations of options investing, CFD's or Dividend Investment Strategies…just to give you an example. You will rather find presentations about real estate investing, the impact of Belgian investors' taxes on your portfolio (from stupid Belgian government discouraging investors) and which stocks to buy as the majority of Belgian investors are Buy and Hold investors. Nothing wrong with Buy and Hold strategy but I want to enrich my investing strategy skills.
What I also like about Dutch people, is the fact that they are more outspoken and explore more different ways of investing which makes them (maybe) more succesful. The fact that the Dutch government wants to remove the dividend tax in 2019, proves again how different a government can think. Taxing investors more and more  is not the best option to support companies and investors. Belgian government has increased dividend tax from 15 to 30% in last 5 years and imposed a stock transaction tax which will double in 3 years. It is really painful to be a Belgian stock investor.
I arrived early morning in Amsterdam to avoid the hectic traffic in the Netherlands and enjoyed an early morning walk.
What is Beleggersfair 2017 ?
Beleggersfair 2017 is an investors' event in the Netherlands. It gathers 50+ guru speakers and the program consists of 15 master classes, fast courses, golden tips and interviews, and live trading. For a little 5 Euro, you can talk to experienced traders and investors and attend interesting sessions where you learn how to boost your investing skills. I know most of you would say…why drive almost 3 hours ? To invest in your knowledge, you need to carve out the time and invest in your knowledge. Learning from others, more experienced investors is the objective. Read on to find out what did we learn during the day…
Key Learnings Morning Session
At 10 AM the doors of Beleggersfair 2017 in the beautiful building Beurs van Berlage opened for all investors. The day started with a Masterclass of Martijn Rozemuller, MD of Think ETF's. He explained that worldwide investing resulted in a 169% return over the past years. The dividends have been a large contributor to this return. We know that investing in the stock market gives better return than saving money. The longer the period you have been investing, the higher the chance you have a positive return.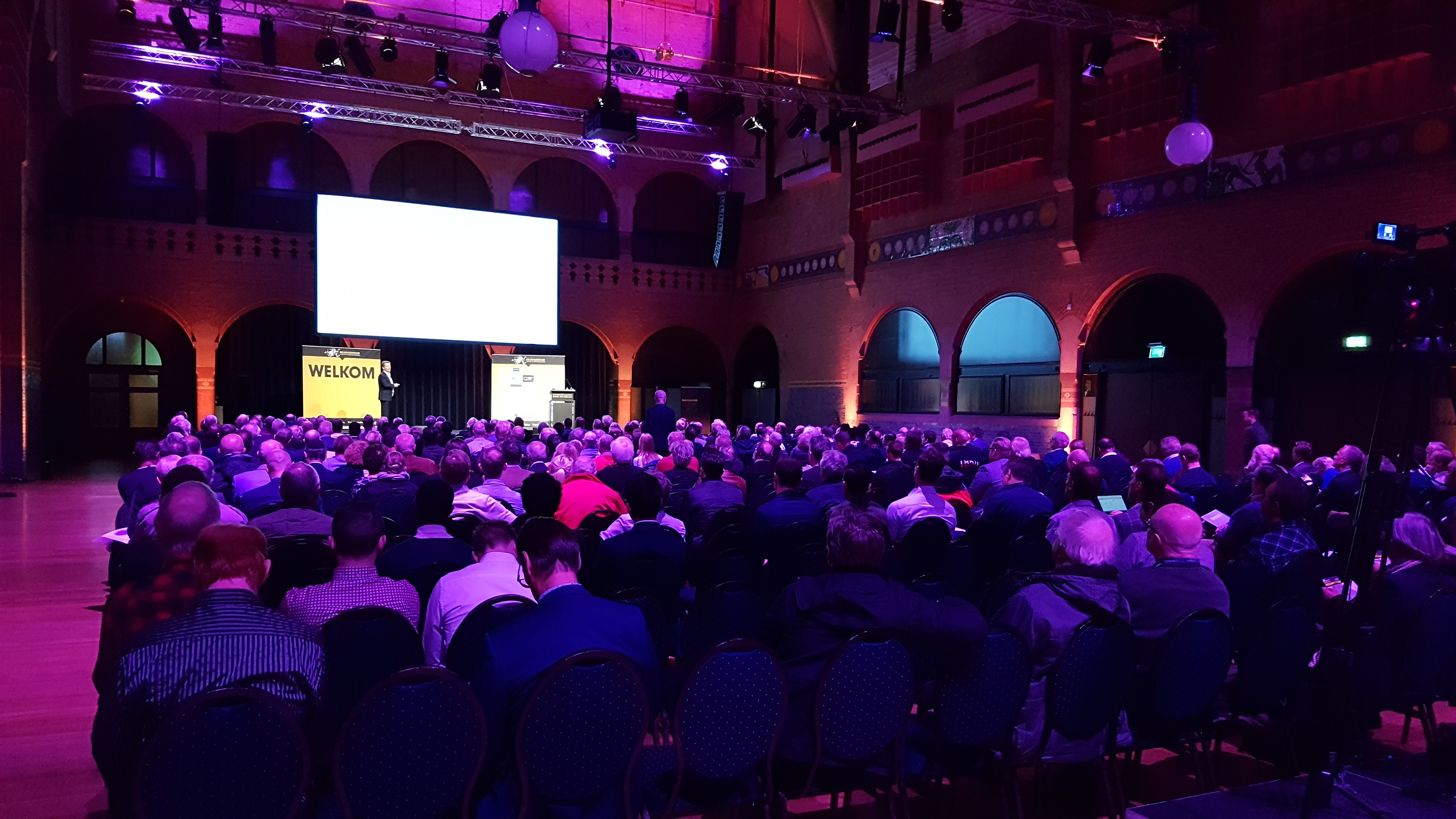 During past years the focus has shifted from active investing to passive investing. The objective of passive investing is to follow the index with a large diversification and low costs. Active versus Passive investing have their own set of arguments. The main goal of passive  investing is to buy the diversification without any research at a low cost. You don't know what the market will do anyways. With active investing you have a vision on the stock market and you pick the right shares. You buy at the right purchase price, research the news and market and you don't mind the higher costs as you believe you can beat the market.  There are three factors to evaluate : costs, risks and taxes. Investing with ETFs compared to mutual funds can save you over 35 years 83.750 Euro. The same applies for taxes and risks. Watch your costs and limit your risks.
Diana Matroos was the chairman leading the main program and different interview sessions with leading financial Dutch experts. She does not invest herself on the stock market. The Beleggersfair program was build for the starter and experienced investor. At the start of the day different cashcow awards were handed out to different Dutch financial companies. Corne van Zeijl was elected as the best Dutch investors' expert giving honest and clear investment ideas through different (social) media channels.
Bob Homan (bank ING) gave an insight on the macro economic development. He expects the interest rates to remain low during coming years and the economy to remain strong. (3% in the Netherlands) The loan yield may go up a little and this might put pressure on current stock valuations. The inflation has been lagging behind tough.
In the Western world people are saving money and investing. There is a high supply of money today and there is no demand which keeps interest rates low. The population is aging and shrinking while the productivity is decreasing. The economy is growing while market valuations are high. Bob says that savings rates will remain low and compares investing in the stock market as the current best option. (mooiste huis in een lelijke straat) Next year performance return can be 5% in the stock market.
Future forecast of the economy growth will remain low as productivity will not grow. Investors sentiment is high today. US households expect 13% increase in the stock market, Dutch investors 10%. Timing the market is impossible. Investing in bonds is not a good idea, only short term contracts. Favorite sectors to invest in going forward are the bank, insurance and IT sectors. Last advice of Bob is "Remain prudent".
First question of the day is of course about "Investing in bitcoin". What is Bob's opinion about bitcoin? He considers it a pyramid game. Mining bitcoin is very energy consuming. The value of bitcoin will increase shortterm as there are more crazy people who wants to invest money in bitcoins and buy at higher prices.
Willem Burgers (The analyst of the Netherlands) invests mainly in Dutch small and midcaps through his AddValue Fund. Midcaps have almost every year outperformed the large caps of the AEX. The fund has today a YTD performance of 24% with an average of 9,1% per year since the start. The objective of the fund is to achieve a performance of 10%.
The Netherlands is #1 in Europe and #4 in the world for competitiveness and innovation. There are many strong top companies.  There are 16 companies in the portfolio of the fund. Willem describes the activities of each company. The CAGR of each company between 2017 – 2020 has to be higher than 20%. Investing is looking at and investing in future performance. The outlook for 2018 remains positive although a market correction could happen. The performance of companies in the portfolio should remain stabile and strong.
Patrick Beijersbergen, editor for the magazine Effect at VEB, reflects back on the election of Donald Trump and the reaction of the stock market. His portfolio was mainly invested in healthcare and companies benefiting Hilary Clinton's election. Nevertheless his portfolio followed the uptrend of the bull market. He learned that you need to invest in strong companies and strong brands while ignoring the political events. The VEB has developed an investor barometer which can give you an indication of the value of the company. Patrick prefers active investing and selecting 20 stocks within his portfolio. He also advices that an investor needs to watch out for the (invisible or hidden) banking fees. This impacts your net return, so be always critical ! Investing you can do YOURSELF.
Gert Luiting works at AFM, the Dutch Authority for the Financial Markets (AFM) that is responsible for supervising the operation of the financial markets. Low interest rates leads to search for money growth. He explains the role of the AFM towards investors and also warns for the hype of bitcoin. There is no regulation for investing in cryptos. He warns also for the risks of using different investment products or illegal boilerrooms.
AFM can not protect you against stock crashes, nor advice you in picking the right stock. Ask yourself what is your objective, what are your risks ? Inform yourself and be aware of the risks ! Always realize that not everything that is new and techy, will transform in gold.
Make Smarter Financial Choices –Michiel van Vugt (NNEK Vermogensbeheer)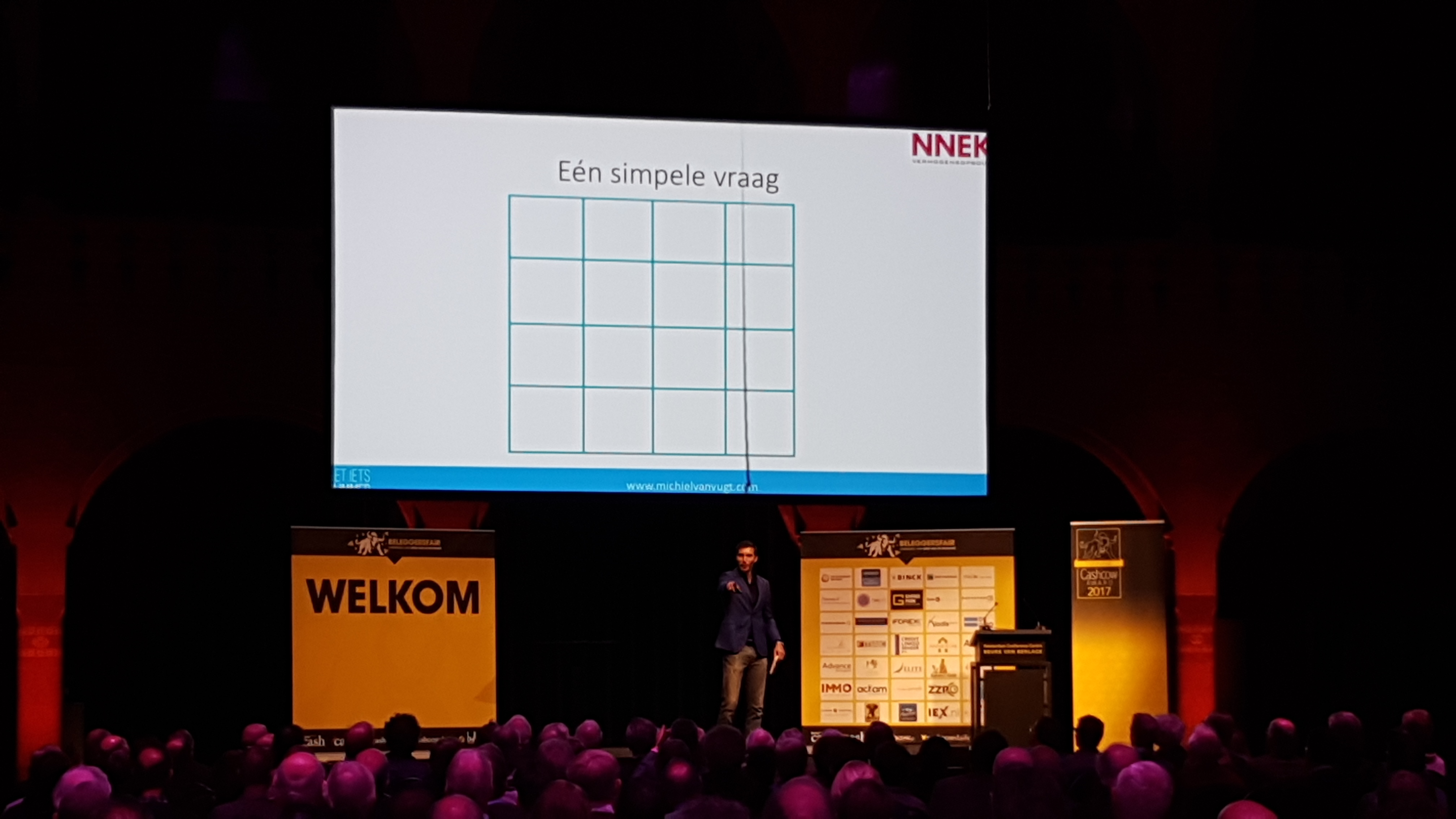 Michiel is the author of the book "Net Iets Slimmer". He starts the presentation with one simple question. How many squares do you see ?  Do you know the correct answer ?
Michiel makes the comparison between a goalkeeper and an investor. Did you know that on average a Dutch investor has a portfolio of 20k euro and that he does 1 or 2 transactions per month for a value of 7k euro ?What does that tell you?
The average investor achieves a return of 2,1%. That is barely higher than inflation or a savings account. Think how you use you money. Do you want to spend it on luxury stuff or do you want to spend it on experiences? It is proven that experiences give you happiness.
Download a free chapter of Michiel's book at this URL .
NNEK Vermogensopbouw – www.nnek.nl
Fast Courses
Active Investing with Leverage – iForex
This presentation was given by the broker iForex. Why investing with a CFD ? Investing with lower capital can give you more potential. You can invest in commodities, currencies and cryptos, indexes and stocks. There is no expiration date and no loss of value compared to options investing. You can never lose more than your account size. Position will stop loss at the stop limit you place. Another advantage is the possibility of a stop loss & automatic execution of orders. (top and bottom). This allows to take profit and stop loss to avoid money loss. Be aware of the volatility of the underlying product ! This will define your capital required on your account.
In order to invest with CFDs, you need to analyse the news and follow the markets. You need to be able to recognize the volatility. Movement of Europe, US and Japan indexes have been very parallel in the past years. If Trump doesn't get his tax plan approved, this could lead to a possible AEX correction.
Monetary policy where Draghi has made the money cheap… oil brent price. The correlation between oil and the stock market has been 1:1 in past months. Profit/Loss is defined by the number of contracts you purchase, not by the leverage. The leverage defines your investment capital. CFD investing is for active investors. URL : iForex
Options and a Stock Portfolio – Ton Ruitenburg (Euronext)
Options as help for managing your stock portfolio. What is an option ? Teach your kids what is an option would be a dream for Ton. Option basics such as Call/Put are explained. Option premium is given to writers of options. Options give additional possibilities for risk management within a stock portfolio.
There are 5 reasons why you should use options in combination with stocks.
Protect your portfolio against a drop : Buy a put option. You pay a premium to protect your stock against a drop. An assurance cost. You can also buy a put Out of the Money at a lower premium with a higher risk. You can also write a covered call.
Extra profit on your portfolio : Call option writing. You can do a covered call at a certain strike price. In case of stock price drop, you can deduct your premium which is lowering your cost basis.
Fix the purchase price : Buy a call option when you expect a price increase.
Lower the purchase price of a stock : Write a put option. This obliges you to buy at a certain price. You can receive the premium. In case the stock drops below your cost price,
Options as follow up of stocks : Stock goes from 40 to 48? What to do… Sell your shares ?

Buy a put at 48 ?
Buy a call at 48 ?
…
There are many possible strategies you can apply options investing ! Discipline, vision and knowledge are the three main characteristics required for a good investor.
How to protect your portfolio against a Stock Market crash
This presentation was given by the company Care IS. There are five ways to protect your portfolio against a market crash. Here's the summary :
Diversification : geographical and sector wise
Buy defensive companies ; examples are Microsoft or Mc Donalds
Buy Put options as an insurance : expenisve protection and more complicated
Step out of the market (temporarly) : hard to define the timing
Commodities : invest in gold or other commodities
Dividend Investing Strategies
This presentation was given by a student of Amsterdam University of Applied Sciences  – Faculty Business and Economy.
Why dividend ? Dividend is always positive. Companies try to pay a stabile or increasing dividend. Compare savings interest rate against the dividend of a Dutch company such as Royal Duth Shell. There are 3 different dividend investing strategies
Dogs of the Dow : Dow dividend investing see URL
Return Reversal strateg : invest in undervalued dividend paying stocks or funds
Warren Buffet Strategy : invest only in companies that you trust and create value. This results in a stabile dividend.
INO Presentation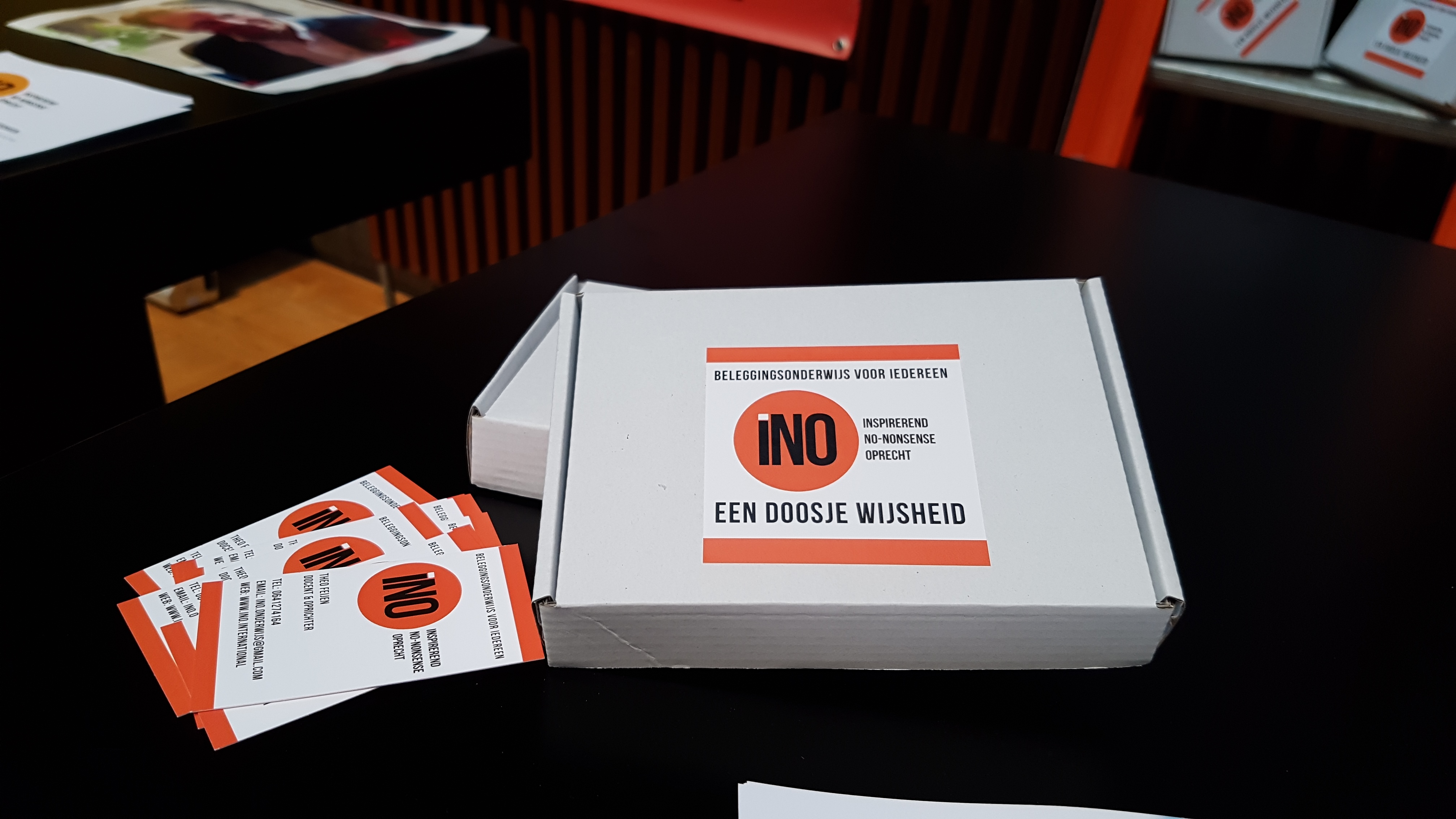 Teacher and entrepreneur of INO is Theo Feijen. INO stands for Initium Novum…I know. The company INO provides investment courses for the starting investors and companies.
Today there are many financial products such as turbos, sprinters, options,..but do you understand them? Do you understand the correlation between stocks and world economy ? What is the role of the central banks ? What is investors' psychology ? Is Market timing possible and important ?
INO can give you a 3 day course about all the aspects of investing.
Check out the website of INO for more information.
Key Learnings Afternoon Session
Michiel van Vugt kicks off the afternoon presentation sessions. He asks investors whether they compare their investing results…but comparing with what ? It is dangerous to compare against a peer group with a higher financial living standard. Reason with your own objectives and compare against the achievement of your own results. Your behavior is most important for a positive longterm return. Do not follow others and new trends. More importantly… your brains enjoy great happiness through joyful experiences with your family and/or friends.
Next was a panel discussion about impact investing. Follow the discussion from 24:50 on the youtube video
Niek Hoek CEO from Dutch Star Companies  One is a new investment company which want to raise 50-100 million euro capital to invest within growing Dutch companies. This investment company will be stock listed. The IPO will occur in Q1 2018. You can find more info at the website.
Next was a panel discussion between real estate investment companies. Follow the the discussion from 1:05:00 on the youtube video
The day ended with a Masterclass about investing in whiskey. Check below the video links of the Masterclasses.
Visit to the booths
During the day I also visited the different booths. I can catalog the different booths in the following catagories :
Wealth Asset Managers, Stock Investment companies
Investors' magazines
Investing in different asset classes such as real estate, whiskey, wine, …
Amongst the booths, there was one Belgian stock advisor specialized in Safe Investing. The stock tips focus on safety first and avoiding losses. Check out the website Rendement Plus 
Other examples of Trading Ideas are Turbotrends (Turbos & Options) and TradeIdee
Maybe you dream about buying a house in France (B&D France), or participate in a crowdfunding real estate project in the Netherlands, or just let Index investors manage your money at a low cost of 0,67%. The interesting investors' magazines are IEX and Cashcow. They are informative investors' sources. Check them out by clicking the links.
2018 Golden Tips
During the day, golden tips were presented by different investors or traders representing different companies within the corner of CASHTV.
Here's the summary list of 2018 golden tips :
Boskalis, Equinix, Tencent (Martine H.)
KPN, NN Group, Philips, Euro/Dollar, Gold (Nico Bakker)
Altice, Fugro  (John Beijer)
Ahold, Boskalis, Unibail (Geert-Jan Nikken)
Japan Index tracker (Corné van Zeijl)
IAU Gold tracker (Karel Mercx)
Below you can find the Dutch video links of each presenter explaining why.
What did I learn during the 6 hour Drive ?
If you follow my blog, you know that I invest time in the car to listen to Optionalpha options investing podcasts. During the 6 hour commute to Amsterdam, I listened to the Weekly Podcasts 102 – 110 of Kirk DuPlessis.
An interesting podcast is Podcast 105 : How to protect your Portfolio in a Down market. Click the link to listen.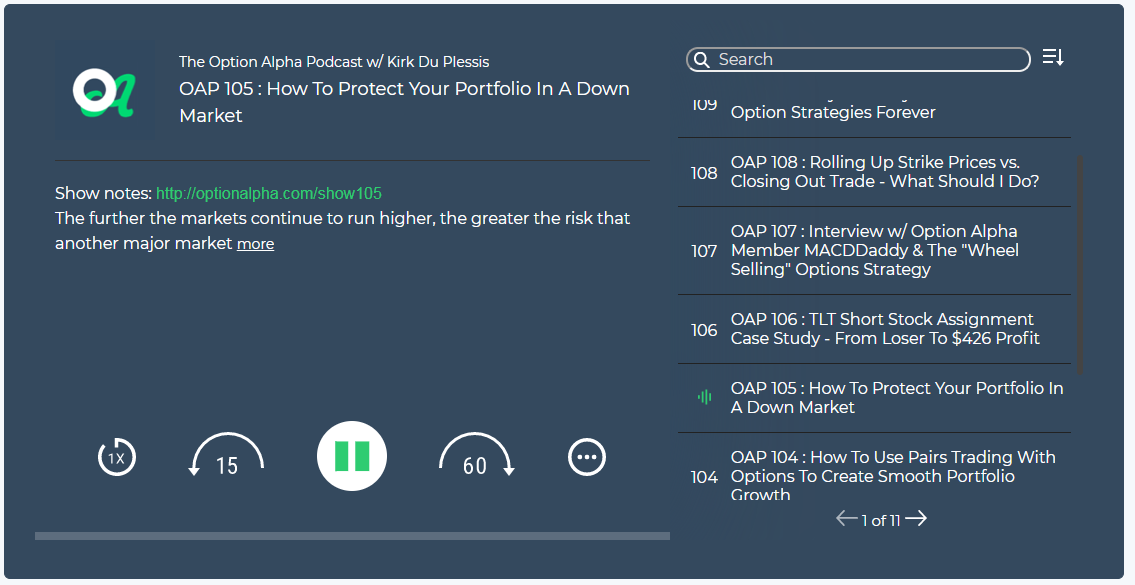 Final Conclusion
This day was definitely a boost for my investing skills full of interesting information and we hope you learned something from above descriptive blogpost. The Options course was very basic for me but nevertheless it was a day full of informative presentations, masterclasses and fast speed courses, ….if our schedule allows, we will be back next year!
From the Golden Tips list, we will definitely put some technical break out alerts for the tickers of Ahold, Boskalis and Gold tracker IAU. For the masterclass videos, click on the link below to watch them.
If you didn't learn anything from the blogpost, you are definitely smarter than me, which is a great thing…lol! Thanks for reading and as always we end with a quote below all the links section. Don't hesitate to leave a comment or feedback for all the hard work that went in this blogpost.
If you don't follow us on Twitter or Facebook, don't hesitate to do so as we share more content during investors' events in Twitter and more articles from other sites in Facebook. Stay tuned and thanks for the follow. Have a great day, weekend and week!!
Video links
Masterclasses given during the event
"Leer beleggen als Warren Buffett" Martijn Rozemuller, Think ETF's
"Stenen horen in iedere portefeuille thuis" Huib Boissevain, Annexum
"Turbo Tijd met Technische Analyse" Nico Bakker, BNP Paribas Markets
"Stoomt de AEX door naar 600 punten?" Bas Heijink & Sander van Baren, ING
"Investeren in Botswana – Omogolo Bush Lodges" Yvonne Verkaik, Omogolo Bush Lodges
"Rendement maken en risico's beperken in 2018" Christophe Cox, Commerzbank & John Beijer, Turbotrends
"Duurzaam beleggen met ZZP Pensioen" Maarten Post, Stichting ZZP Nederland
"OBAM. De kunst van het kiezen" Sander Zondag, Chief investment officer BNP Paribas OBAM
"Beleggen in Villagronden in de Belgische Ardennen" Fons Ceustermans, Mathias Tanghe en Werner Spranghers, Immpulse Real Estate
"Beleggen in whisky: hype of volwassen alternatief?" Paul van der Hulst en Marjolijn de Roode, Scotch Whisky International
"Impact beleggen in opkomende landen via crowdfunding" Peter Heijen, Lendahand
"Dutch Darlings : 19,4% rendement per jaar met Nederlandse aandelen " Frans Schreiber, Dutch Darlings Fund
"Beleggen in Bitcoin en andere cryptocurrencies" Boudewijn Rooseboom & Justin Bons, Cyber Capital
You can watch all Masterclasses on the following website URL 
Plenaire Sessions Video links
Morning Session Beleggersfair 2017
Afternoon Session Beleggersfair 2017