Last week of November has kicked in and we are less than 4 weeks away from Christmas. Currently I am in Pennsylvania, USA. As I wake up each morning around 3 am, I can read the Wallstreet Journal after spending 1 hour in the gym.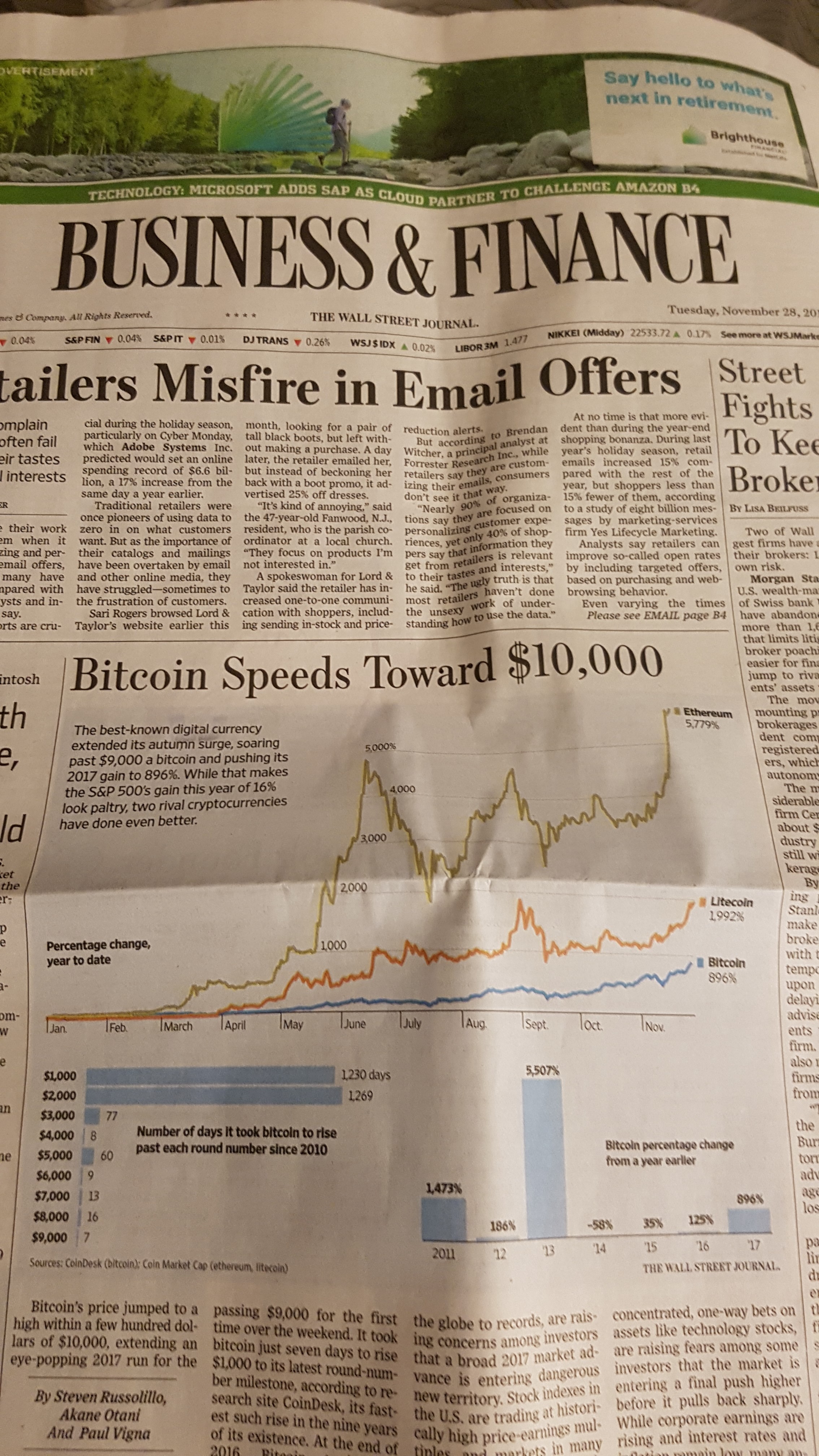 Did you see the headline of the Business & Finance section ? Bitcoin price has surged to 10.000$ and pushing its 2017 gain to 896%.  While that makes the S&P500's gain this year of 16% look paltry, two other cryptocurrencies such as Ethereum and Litecoin have done even better.
Bitcoin has now a market capitalization of about 162 billion$, more than General Electric and a number of other Dow companies. As the press writes about the surging price, more and more retail investors are interested in buying the hype fueling the demand and pushing the price further up.  I know several bloggers who trade it but I don't. I stay focussed on my own goals. If you invest in bitcoins or other cryptocurrencies, be prudent and take your money before the hype collapses. Ride the momentum, take your gains on the way up and avoid any loss.
Let's take a look at the market sentiment
Market Sentiment and Sector Watch
U.S. stocks closed sharply higher with all three main indexes ending at all-time highs. Investors focus on upbeat economic data and welcome incoming Federal Reserve Chairman Jerome Powell's comments that he wouldn't make drastic changes to central bank policy. News that the Republican tax bill moved forward in the Senate also boosted confidence.
All major stock indexes have hit highs ths year. The Nasdaq has hit 69 records this year while the German DAX did hit 25 records. Today only 13 countries are in a recession, the fewest since 2007. By 2021 this estimate is forecast to drop to three, which would be the fewest countries ever in recession.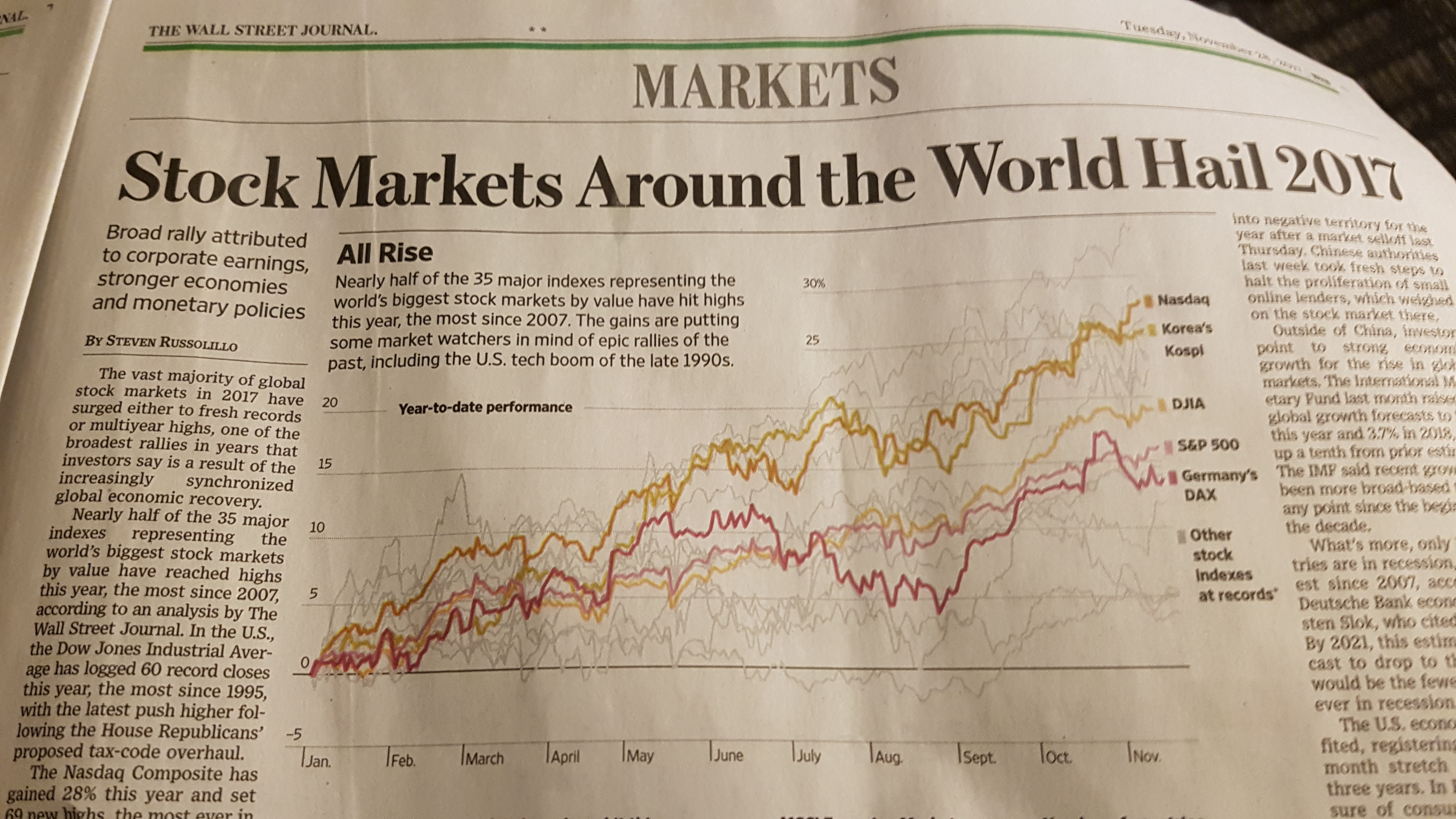 The market sentiment remains strong. In Europe, a measure of consumer sentiment rose last month to its highest level since April 2001. In Asia, tech giants Alibaba Group Holding Ltd. and Tencent Holdings Ltd. have surged so much that the tech industry overtook finance this year as the biggest sector in the MSCI Emerging Markets Index.
Let's take a look at the Sector Watch. Here we look which sectors we should invest in and what is different compared to last month. We placed the latest Sector Watch graph below…This always you to make you your own analysis.
The Tech, Finance, Consumer Goods XLK, XLF, XLP remain strong.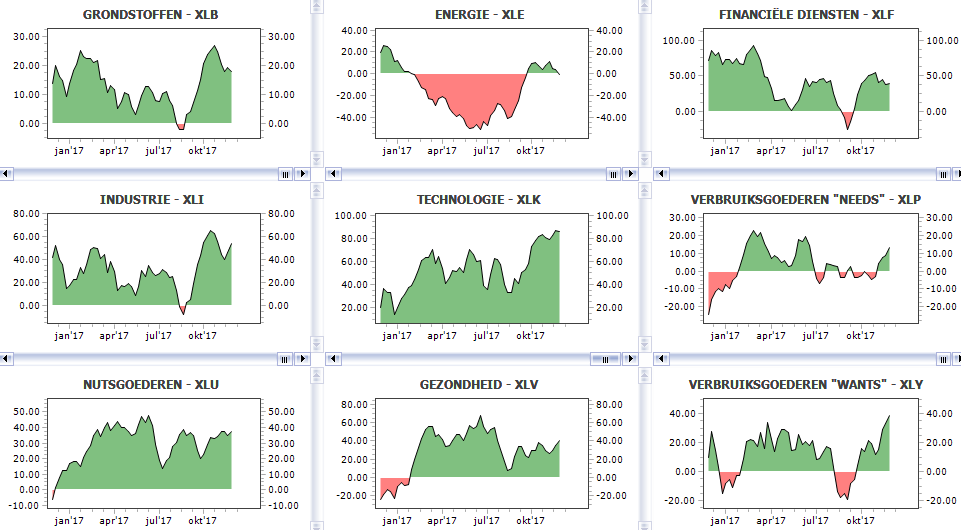 We hope this market review was useful for you to understand market opportunities and how we analyse the sectors. .
Dividend Income Update
Now let's take a look at the dividend income report of October 2017 for my kids' portfolio!
Dividends received in October 2017
During the month of October 2017, we received 120,61$ dividend income.

Portfolio analysis and Growth
We now have 632,84$ dividends received on a starting amount of 10.000 EURO AFTER 10 MONTHS. The 2017 goal for my kids' portfolio is to generate 600$ in the total year which equals to an investment return of 6%. We have now 105% ACHIEVED of our 2017 objective. We hit our yearly goal and should be able to finish the year with a nice return on our money.
The Euro/dollar is negatively impacting our yearly return and our portfolio value but we don't care as we invest this portfolio further for the next 10 years or more.

Going forward
We still have a cash position of 3700 Dollar as we converted our remaining euros in dollars at 1,20 EUR/USD. Maybe we look for an interesting swing or an options trade for the last month of the year…and make some extra profit. We will see.
Good luck with your personal finance strategy for your kids! Thanks for reading.
Putting money on a savings account for your kids is NOT a strategy to make it grow! 
Thanks for reading the blog post. We end with a quote as always. Don't hesitate to leave a comment or feedback.