Vacation time has arrived…the family is now in the middle of France. A region called La Vienne with the city Poitiers as the centre of the region. We rented a vacation house with a pool and there's also a jacuzzi and gym to work out.
Vacation time is also a time where I can grab a couple of books for reading. I don't like reading all the time in one book. So I grabbed a few books from my library and read as I like..
Below you can find a picture of the 4 books that I brought along.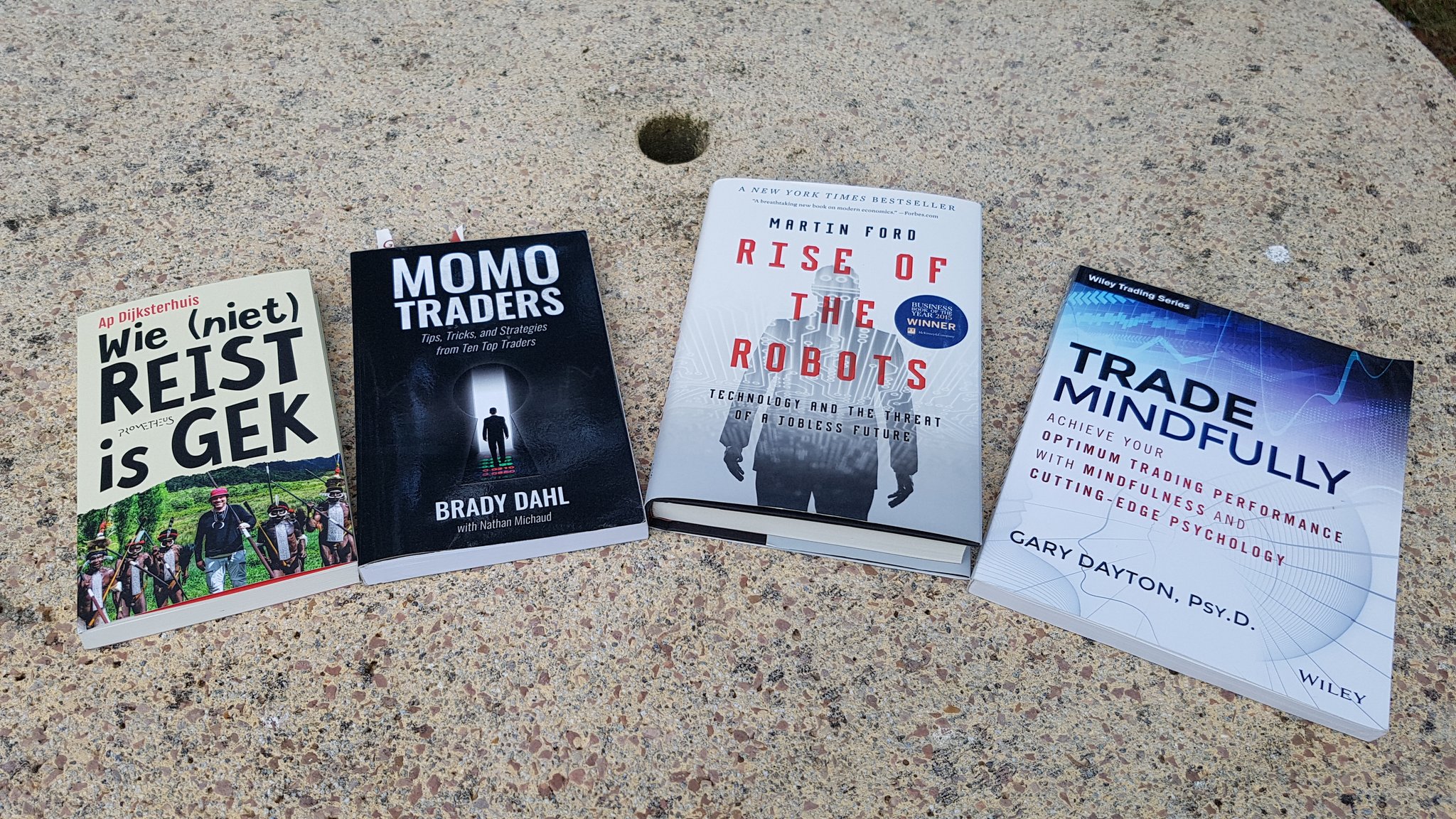 My 4 Books I am reading…
Wie (niet) reist, is GEK (Who (doesn't) travels, is crazy)  – Ap Dijksterhuis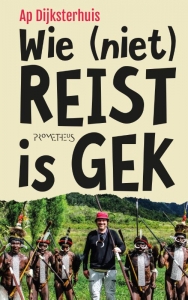 Who (does not) travel is a booklet written by the successful psychologist , but also passionate traveller Ap Dijksterhuis. Travel is a way to keep the mind fit and has a special effect on our brain and creativity.
According to Dijksterhuis the advantages of travel are without limits.
I chose this book to learn about the psychological insights travel brings to our state of mind and happiness. This may not be applicable for everyone on this planet but I know that travel broadens the perspective when you look at things. You learn to appreciate easier the things you have and you can definitely escape from the rat race that the Western world has become….
Travel and psychology is definitely an interesting combination !
Momotraders – Tips, Tricks, & Strategies from Ten Top Traders – Brady Dahl

Momo Traders features extensive interviews with ten top day traders and swing traders who started where you might be as a trader and now make a great living—some even becoming rich. They weren't given a leg up, they didn't start with millions, and they don't manage billion-dollar hedge funds. They battle the market day in and day out—just like me—and win!
Brady Dahl is a trader, entrepreneur, and writer best known for his work on the first four seasons of the FX hit show Sons of Anarchy. Trading since 2008, he is fascinated with the speed of the industry and the voracity of its players. He currently resides in Minnesota, where he can be found raising a family, writing film and television screenplays, staring at stock charts, or at the lake. Connect at www.BradyDahl.com or @MiltonaTrades.
The reason for picking this book, is to learn from the best traders in the world. Learn from others is one of my credos in life. As this book is written in one chapter per trader, it allows me to read one chapter and cover all key learnings from this top trader. Check out also www.momotraders.com 
Rise of the Robots – Martin Ford

What are the jobs of the future? How many will there be? And who will have them? As technology continues to accelerate and machines begin taking care of themselves, fewer people will be necessary. Artificial intelligence is already well on its way to making "good jobs" obsolete: many paralegals, journalists, office workers, and even computer programmers are poised to be replaced by robots and smart software.

As progress continues, blue and white collar jobs alike will evaporate, squeezing working- and middle-class families ever further. At the same time, households are under assault from exploding costs, especially from the two major industries—education and health care—that, so far, have not been transformed by information technology. The result could well be massive unemployment and inequality as well as the implosion of the consumer economy itself. The past solutions to technological disruption, especially more training and education, aren't going to work. We must decide, now, whether the future will see broad-based prosperity or catastrophic levels of inequality and economic insecurity. Rise of the Robots is essential reading to understand what accelerating technology means for our economic prospects—not to mention those of our children—as well as for society as a whole. I chose this book to learn….and "Be prepared for the future !"
Trade Mindfully – Gary Dayton 

Overcoming psychological obstacles to increase trading success is key ! 90% of traders fail…

Successful traders need to be well-versed and skilled in a wide range of business and economic areas. But now, in addition to effective trading strategies and sound money management techniques, traders need to possess the know-how to handle the mental and emotional challenges of working in a highly volatile environment. Trade Mindfully is a unique resource that applies cutting-edge psychological techniques to trading skills, allowing readers to improve their mental outlooks and maximize the potential of their trading strategies. This book draws upon recent psychological research in behaviorism to teach new approaches that call for better focus, more confidence, and more positive perspectives and outcomes.

One of the key concepts covered in the book is mindfulness, a state of mind traditionally touted in the East for its ability to reduce stress and increase perspective, useful qualities for traders looking to rise above emotional obstacles and the poor results they cause. The author also discusses the importance of High Value Trading Actions (HVAs), specific actions that are under a trader's control. With this guide, trading professionals will be able to form solid strategies based on a combination of these notions and practices, leading to higher levels of trading performance.

Applies sound psychological practice and evidence-based research to the trading profession
Covers the psychological perspectives and mental skills needed to succeed in today's trading world
Focuses on key concepts that lead to deliberate practice, specific trading activities, and increased awareness and focus
Designed to help traders deal with the emotional challenges that come with uncertainty and risk

Trade Mindfully touches on the most essential concepts for anyone intrigued by what trading psychology has to offer, and delivers the best strategies for achieving the right mental skills for peak performance. This book was recommended to me by a very successful trader that I know !
Final note 
The profession we will do in the future, the society around us, the decisions we make in life largely depends on the information we consume and what we do with it. The person you will be in five years depends largely on the information you feed your mind today….this is exactly the quote that I love and try to execute year over year, day by day. You can always change your life…failure is no option when you don't quit. Educate yourself !
Enjoy your vacation and enjoy your reading ! Whether you read fiction or non-fiction, there's always something to learn ! Salut et a la prochaine….