Wow….time flies. We are already 12th of August. It will be Christmas in no time, isn't it?
Two weeks of August already passed. Summer vacation of the kids already passed more than half. Kids did enjoy their summer vacation. A few blog posts will appear about that travel adventure in coming weeks. My mom had also another trip in July. She went to the Dolomites mountains in the North of Italy and had a great time with friends. Here's a great picture.
To find out more interesting spots to visit in the Dolomites, visit the following website.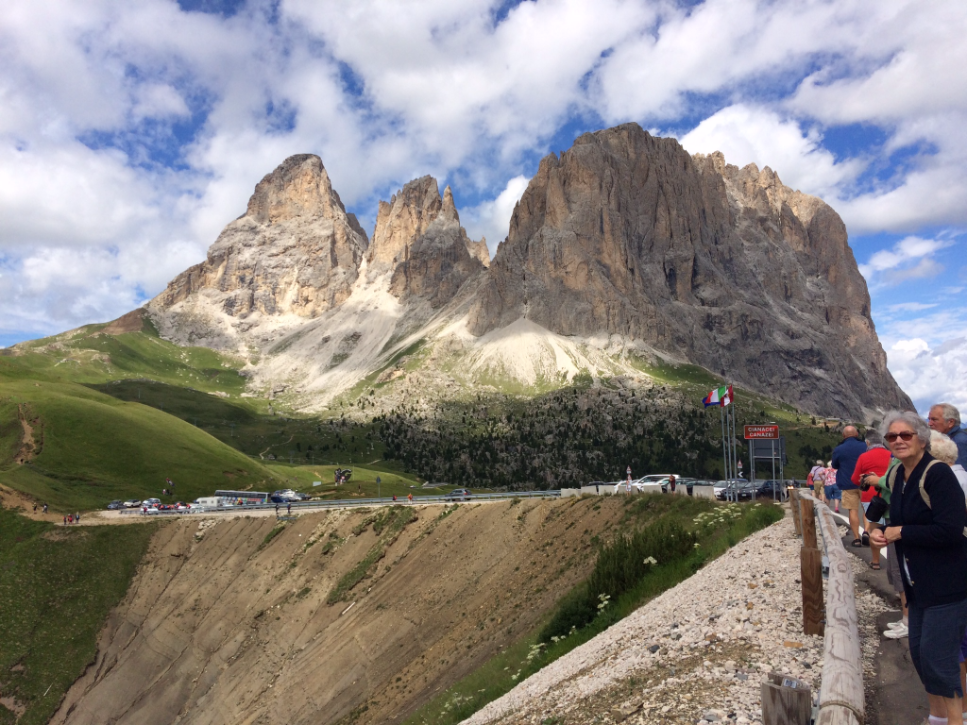 What happened in July 2017 ?
In the month of July, the Belgian government reached an agreement about how to fix their budget. Another disappointing event on which we will reflect in a separate blogpost. But one of the decisions that the government made was to create two systems of the tax deductible amounts for pension savings.
Besides the current system of pension saving through a fund where you benefit from a 30% tax deduction when you invest 940 euro per year, a new system will be introduced in 2018 which allows you to invest maximum 1200 euro but your tax deductible amount will be reduced to 25%. In reality this will result in an 18 euro net benefit.
I won't participate in THIS NEW SYSTEM of 1200 Euro for the following reasons :
The banks and insurance companies do NOT generate GOOD performance and return on investment for a pension fund. The performance of the pension fund is around 3,6% (5,6% in 2016 minus 2% inflation) while the average of the stock market is around 7%. Sorry banks and insurance companies…but your costs are too high and your performance returns are too low !
The government is an untrustworthy partner. Recently I wrote the blogpost "How untrustworthy can a Belgian government be ?" Well…this government has proven how untrustworthy they can be. They focus on taxing the investors in the stock market. Who says that they won't raise more taxes within 5 years after you invested more money in your pension fund…as they always do. They also doubled the stock transaction tax to 0,35%…completely insane !!
DO IT YOURSELF ! In order to get an 18 Euro net per year, I would need to invest more and give more to the banks…no way ! I prefer to invest this extra money myself and make a better return on investment. I prefer to take care of my own investments and I don't trust government nor banks to give me the best return on my money.
Personally I don't think the government will be able to pay for the current pension system. The current pension is already insufficient to pay for health care and a pension home going forward and the government is doing NOTHING to fix it while the population keeps on getting older. The government expects YOU to save for your retirement costs and additional pension. And at the end they will steal your net worth away from you if you can't cover the healthcare costs. The government on the other hand keeps on spending more money as if there's no problem at all…cutting their own budget and income is not on their agenda.
Now you can read our Dividend Income July 2017 Report Out for my mom's portfolio.
Dividends received in July 2017
During the month of July 2017, we received 547,37$ dividend income. A new RECORD !! We are very excited about that ! 
This dividend income was composed of 219,79$ monthly payments and 327,58$ quarterly payments. Here you find the overview of all dividend payouts during the year 2017 compared to 2016.

Portfolio management
During the month of July, we did only enter 1 new position in an oil dividend paying ETF. This is more a contrarian entry as most people think that oil will drop to 20$. Personally I think oil can go to 60$ by the end of the year when you follow what the players are doing now. Some traders say crude oil will trade 70 to 80$ per barrel. We will see..
The total value of the portfolio is still around 20k. We still have more than 35% in cash position for our next opportunities.
Dividend Income Growth
My mom's dividend income is now growing strongly above the yearly objective of 1200$ mark.  We have now a total of 1963.75$, almost crossing 2k. We now have 164% of our yearly objective after 7 months. 

Going forward
We are now in August 2017.  Our goal remains to get to our monthly 200$ objective. We broke our 410,18$ April month payout. That made us very happy ! We keep an eye on each of our positions as you never know that there's a bad news report or that a political event such as the North Korea – USA conflict will result in a war and black swan event on the stock market. Our ETF position in Greece has climbed nicely as projected. I think there's room to 11$ midterm which would result in a 10% gain. Longterm this ETF has more potential gains dependent on where the general stock market goes.
How was your month of passive income? How do you generate money for your retirement? Let us know….
Thanks for following us on Twitter and Facebook and reading this blog post. We end with a quote as always.