Did you read the first blogpost "Building a Foundation for Wealth" about Day 1 from the Rich Dad Summit event.
The Rich Dad Summit was a 2-day 100% Online event in December designed specifically for people who want to make more money and learn to create systems to have their money make more money. The tactics and strategies you could discover, can be implemented immediately – even the very same day! There are two sides to success : Method + Mindset. You need to learn new methods to make more money and have the mindset to act upon it. Otherwise your learning doesn't matter as you don't execute.
Here are my key learnings from this 2 day virtual online event. In this blogpost you will read my key learnings from DAY 2 (session 10 – 17). If you want to watch the replay of this event on YOUTUBE, scroll below to the final conclusions to find the URL.
Key Learnings from Day 2
The session Success Is Simple contains the key message to do the follow 4 things :
Invest in Financial education and wealth building
Invest in personal guidance and leadership
Invest in Your network and surround yourself with knowledgeable people
Invest in YOU
In the session "Profit from Real Estate Investing the Rich Dad Way" Real Estate investing coaches explain the value of real estates coaches. They help investors to overcome fears and challenges while reducing and avoiding mistakes. They also present other opportunities to help reach end goals. Learn small and start with buying a few houses (like in Monopoly). Get to know your area. Learn the strategy of investing in properties. Once you get through the fear of your 1st investment, you'll gain confidence and start to see the potential.
Most investors will probably flip a property at some point. There's a line between when it becomes something to just fix up to rent out vs. when it becomes rehab. Flips can be time intensive and can become another job, even if you're not using a lot of your own money. You're looking to create passive income, not another extra job. Flipping houses is more a business, so you need to buy the right property at the right price and be able to sell at a higher price. Market fluctuations could get you in a bind if it swings during the flip. It is not easy but once you have a team and a system in place, it becomes manageable and possibly rewarding.
The busted myth is that you need to have a have a lot of money to get into real estate. There are many different creative financing strategies. You could opt for a smaller multifamily property where you can live in one unit, rent out other units. You are not going to see cash flow from a single family home. Always buy for cash flow ! Look at the relationship between what you had to invest into the property to cashflow. If a property has a modest cash flow, but you didn't have to invest much starting capital, it could be a good deal. Leverage can help to increase your cash-on-cash return. Only buy properties that are good deals today ! You are going to make money while you own it because over time you'll be able to increase rent. Good investing is a paycheck.There is huge advantage of real estate when you combine appreciation and leverage. You can leverage the equity in one property into another, just like moving money from mutual fund to mutual fund.
Real estate is a safe investment when it is not in a bubble. You need to be able to generate cash flow from the property. Property markets go up and down. Always buy for cash flow. Positive cash flow can help insulate investors during market declines. As long as you bought correctly with a positive cash flow, the ups and downs won't affect you that much.
Is there risk? In general, those who get into trouble with real estate, they make mistakes that the pros wouldn't. Real estate can create wealth faster than a job. You may never be able to save your way rich or quit your job, but with passive real estate income you might be able to. Net worth builds over time. Tenants are paying off your investments.
What are the Real Estate Benefits :
You can invest in real estate in your spare time
Create multiple streams of income
Tax benefits to owning property
Provide jobs (contractors)
Steady wealth (fixed rate loans, predictability)
Passive income
More control over your investment
Better leverage than other investments and less starting capital needed generally
When you buy real estate for cash flow you have several benefits. You have the time and freedom for yourself and family. You have the resources to travel. You have the flexibility to live the life you want to live. Be aware you can borrow money and make it make money. It doesn't have to be your own earnings, you can use "Other People's Money" (OPM)
In the session "The Opportunity in Bitcoin" Max Wright starts his presentation with explaining the difference between bitcoin and cryptocurrencies. There are alternative coins referred to as Altcoins. There are 800+ types of altcoins. He also explains how bitcoin works. There is a hard cap of 21 million bitcoins today. What is the ROI of Bitcoin?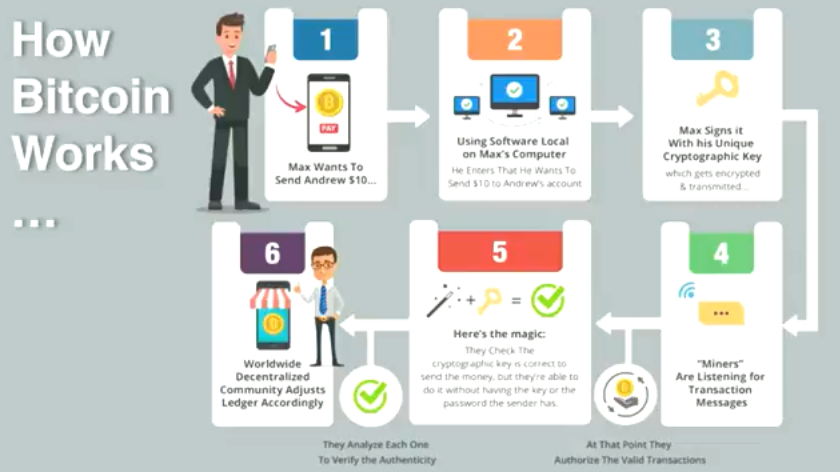 The price of Bitcoin goes up and down because of supply and demand. The supply is set in stone (21 million). Demand is set by the market. Who wants it and how much they are willing to pay for it?
Over the last 2 years Bitcoin went from 500 to more than 10.000$… is there a bubble? Forecasting a bubble is tough. Max says the current price is very high but fair. It will probably continue to go up. Bitcoin has established itself (Gold of the universe) while vast majority of altcoins won't go anywhere.
Money is 1/2 of every transaction on the planet. A technological revolution is coming…If you want more information, the best place to start is www.reddit.com/bitcoin.
In the session "How to Leverage the Global Economy to Develop a Business" Fred Lam starts with stating that today there are many online business opportunities. Online Business opportunities are : Email marketing, affiliate marketing, digital publishing, Kindle publishing, Vlogging & influencers and e-commerce. By 2021, e-commerce sales is projected to reach $4,5 trillion USD Sales. That is 3x lift from 2014 with $1,3 trillion in USD Sales. 1 in 4 digital buyers shop online once per week. By 2020 there will be over 2 billion shopppers. More than half of Online Shoppers Purchased from an oversea website. The rise of Globalization & Technological Advancements create opportunities.  What does this mean for YOU ? You can escape the Rat Race fast. You can move in the S Quadrant and develop an e-Commerce Business.
Fred explains his 25 million journey starting from zero. He has a repeatable proven 5 Step Business Formula to launch. You can master his entire online Business Blueprint today and build a business live in 17 minutes or less. Did you ever bought a product online ? Fred started 13 years ago as a dishwasher and made his first 7 figure business in 2008 in just 4 months. He discovered 5 Steps and sold more than 1,7 million $ online. He repeated the system several times to generate multiple millions of dollars. Fred explains several case studies of people applying the 5 step system and generating the online sales.
The strategy is to build a sustainable, long-term business. Every business needs time, dedication & attention. This is not a Get Rich Quick scheme. So what are the 5 Steps ?
Have a Web Presence. You can use Shopify with more than 500.000 users. With a wizard you create quickly a new online Shop. But you need to put a lot of investment upfront with products, inventory, warehouse space,…Fred has 396 products and he did put down zero money !
Step 2 : Upload your product to your store (Copy & Paste their images & Information) Place order in AliExpress when a customer buys from you. Use Inventory arbitrage : You uptick the cost price of the vendor's inventory and ship directly from the manufacturer warehouse. The #1 marketplace for inventory arbitrage is Ali Xpress from Alibaba. So step 1 is to find a vendor with products you want to sell. Focus on finding the cheapest & highest quality. Fred shows how he searches for products on AliXpress (scroll to 3:52:00 in the youtube video). Check also if the vendor can ship the products with e-tracking. Then your customer can track his shipment.
Generate Traffic. Use facebook with 2 billion active users as marketing platform. 85% of orders from social media sites come from Facebook. Selling on Facebook is easy. Step 1 is to find your audience – get your audience insight. You can use Facebook Audience Insights. Fred demonstrates the information within Facebook Insights. Copy & Paste the ad for your product and then repeat the process. Fred started with just 5 dollars. Start with selling what your audience want with just 5$.
Step 4 is the profit multiplier. This ancient sales technique was invented by Mc Donalds. You add more products which have a 50% discount by asking more sales questions.
Fred created all this technology with Zero Up which allows you to get an online store up and running in less than 17 minutes. He also created the engine Traffic Genius and ZERO Bootcamp. In that bootcamp you can start from zero to profit. With the concierge program you can get guaranteed coaching and your first online sales. He then makes a sales pitch to become a Platinum member for 1497$ or three payments of 597$. (URL)
In the session "The Power of Soft Assets" Andrew Lantz states that soft assets are incredibly important to invest in. It takes 20 years to build a reputation and five minutes to ruin it. (quote Warren Buffet) Another soft asset is relationships. Do you know people around you which can help you in the opportunities you have. With the internet, it is easier than ever to connect. "People assets" are incredibly powerful. A 3rd soft asset is skills and education. Financial intelligence is essential, as Robert Kiyosaki says. Investing in skills and education pays off big time. Take investing in soft assets as serious as investing in hard assets. Make a regular assessment and also invest in your health and wellness.
In the session "The Tax Savings of Becoming an Investor & Entrepreneur" Tom Wheelwright explains how the tax laws work in USA for different types of people  (employee, self employed, business owner, investor). You can listen from 5:20 to 6:05 if you are applicable to US tax laws.
In the session "How to protect your Assets" the lawyer Garrett Sutton starts with the question "How many of you have been sued?". CPA does not mean chief public accountant but stands for "CAN NOT PROTECT ASSETS". For a business the bad is that you are a sole proprietor.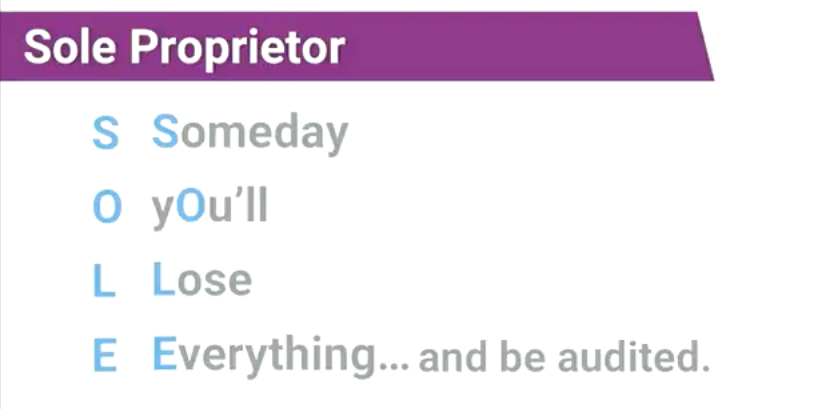 Even worse when you have a business partner and/or venture. If you want to setup a business in the USA, you can start a corporation (S Corp & C Corporation). Another possibility is a Limited Liability Company or a limited partnership. Then Garrett explains the advantages or restrictions of the different forms of corporations. Dependent on the state in the USA you also have different tax implications.
In the last session "The Power of Contribution" Anik Singal explains the power of contribution : contribution to your family, to your community and to yourself. What is your contribution versus charity ? The company Lurn is building schools for children living in the slums. They already build 6 self-sustainable Dream centers. Adding value to the society is necessary. Impact is essential. Then your meaning in life and fulfillment within life grows. Then wealth flows …
The two keys to become wealthy is to have your money make more money and at the end be able to contribute to everyone around you. Execution is essential. Invest in your personal growth and choose to be rich in financial intelligence and developing your skills and soft assets. Start doing meaningful things in your life. Successful people relentlessy execute !
Final conclusion
Why did I invest time watching this ? It's all about investing time in financial education & wealth building. It is also about investing in personal guidance & leadership. What did we learn from those sessions 10-17 ? The most interesting sessions are session 11 "Profiting from Real Estate" and session 13 "How to Leverage the Global Economy to Develop a Business".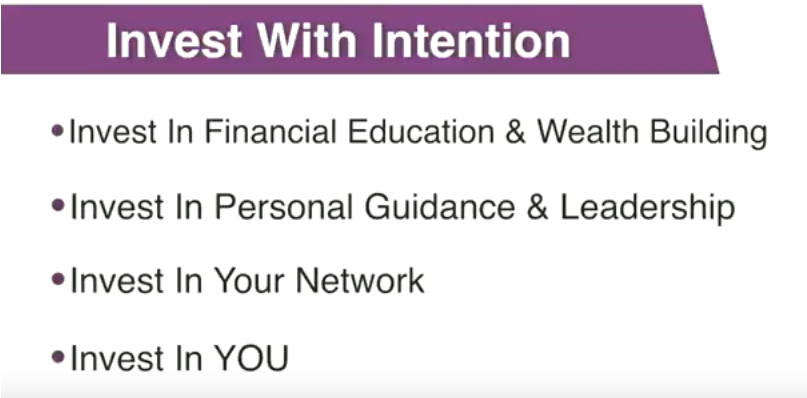 You can book a real estate coach session for free and learn about real estate investing strategies. I will definitely try a free real estate coaching session and see what I do learn from it. In our last FIRE meeting we did meet a bloggers couple investing in real estate in the Netherlands. Follow the blog Divnomics to follow their journey. Investing in bitcoin is not for me. I will invest in a blockchain technology ETF going forward as alternative.
The e-commerce online business opportunity was interesting to hear and learn from. I have no time for the e-commerce challenge offered by ZeroUp. Personally I find the sessions "the Power of your Assets" and "the Power of Contribution" food for thought. I pay today the education and invest for the future of a foster child in Nepal. But what can I do more?
The Basic Formula for building wealth is SPOT ON ! Invest in assets that pay you money. That is why I invest in dividend paying stocks and learn about other passive income generating strategies. Real Estate or investing in real estate REITs is definitely on my action list. I have many ideas going forward and I will plan my execution when time allows. Now I focus on my options investing strategies.
The YOUTUBE URL Linke for the FIRST day of RichDadSummit event can be found here.
Thanks for reading this blogpost. As always we end with a quote.