April started great with a 2 week april Easter vacation for the kids and Mrs Dividencake and her son finally arriving in Belgium. This time for a new life as family. Easter is also the day where my mom gave the kids a treat with chocolate bunnies. Which one do you like most ? White, dark or milk chocolate ones?
In the meantime stock markets remain volatile. On sundays I always like to start the day with a youtube video of Gary in Australia. Gary of Specialist Share Education gives a weekly update on the stock markets. Click the link to follow.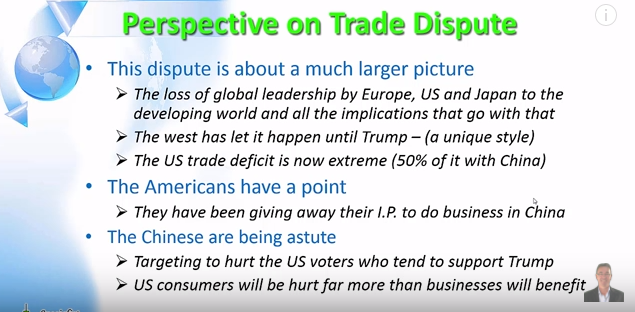 Gary discusses the macro economic outlook and reviews the US, European and Australian stock markets. Then he reviews the precious metals markets.
Friday President Donald Trump disturbed the markets again with a tweet that he would add another 100 billion dollar trade tariffs on China. Gary summarized it in the added slide. The Chinese government won't let this happen without an answer. This will hurt the US economy over the long run more than in the short term. But then the effects will only become visible after the presidency of Donald Trump. It is important that you as an investor stay informed about the BIGGER PICTURE and what goes on macro economic level. Company profits and economic growth does not only define the direction of the stock market but central banks and political decisions definitely have an impact on the economy. Learn about how it works and you will be a more intelligent investor.
What did caught my attention in March 2018 ?
What was new in March 2018 ?
Saturday the 31st of March, the financial newspaper De Tijd posted the following headline "Companies launch a Dividend Bonanza" on the weekend newspaper. Dividends of stock market listed Belgian companies increased on average with 26%. The combination of worldwide economic growth, a lower employment rate and a higher internal consumption did lead to a joint 112% increase of net profit.  Companies let investors participate in this profit sharing by paying increasing dividends. The average dividend increases with 26%. Together more than 12,5 billion euro flows to shareholders.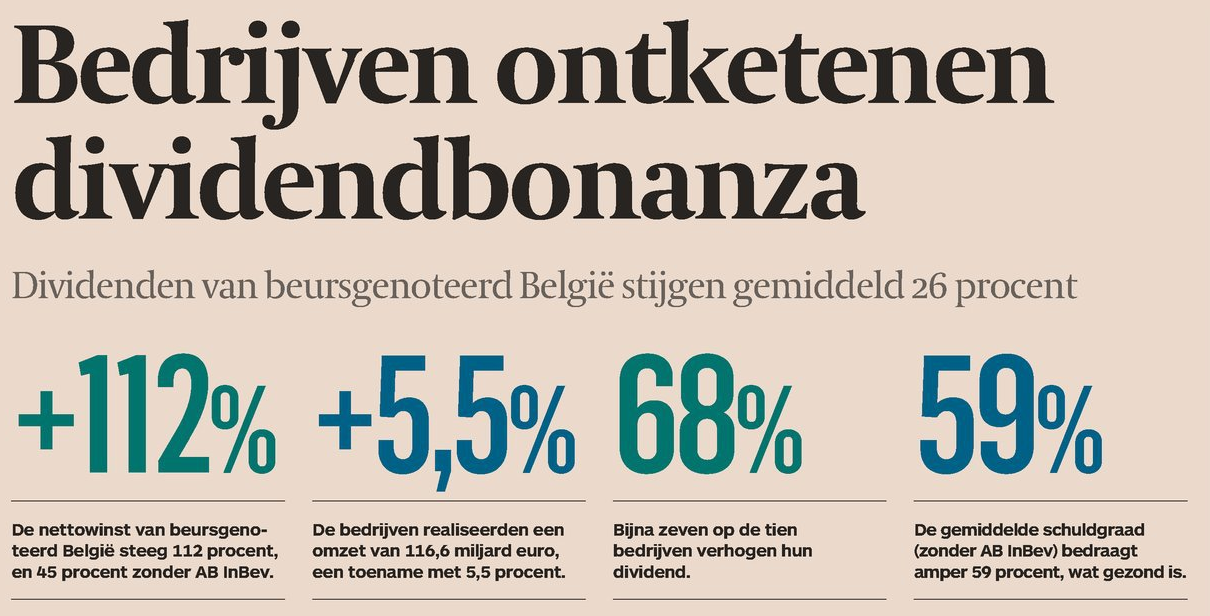 Higher dividends are clearly a sign of confidence. On average Belgian companies share only 51% of their net profit and keep cash for investments or future bad times.
Now you can read our Dividend Income March 2018 Report Out for my mom's portfolio.
Dividends received in March 2018
During the month of March 2018, we received 114,72$ dividend income coming from 4 monthly dividend paying stocks and ETFs. It is below the 290$ monthly goal that we did set as the 2018 objective. We can't be happy about that as we did too little to create and generate extra income. I was simply too busy doing other things…not a good excuse I know.
Here you find the overview of all dividend payouts during the year 2016, 2017 and first months of 2018.

Portfolio management & Strategy
No updates on the portfolio management side. Our cash position has been untouched and has grown to 61%. This 61% cash position will be used going forward for three objectives :
Invest in Dividend (Growth) Stocks or ETFs
Invest in Options (Cash Secured Puts or any other strategy)
Invest in Swing Plays – Longterm opportunities.
The distribution of each investment will be dependant on the risk/reward ratio.
Dividend Income Growth 
My mom's dividend income started the year with a passive income above 500$. Now we added two months in a row a little bit of dividend income. After three months we have 22% of our yearly objective and generated 757,93$.
Last year we received after 3 months 204,41$ + 111,62 Euro dividend. Little more than 300$. So basically we can say that we already generate DOUBLE more money compared to last year. 
Going forward
At the end of March we have taken action to generate extra income with the cash secured options strategy. We sold several options contracts and generated extra income. We will see in April if we close those option trades with a profit or not. In the meantime we are also preparing a move of my mom's portfolio to another broker.
The reasons for doing so I explained in the Happy Easter Blogpost "The Bad and the Good News". We continue to invest time in our options strategies knowledge and getting better every day as an investor.
Thanks for following us on Twitter and Facebook and reading this blog post. We end with a quote as always.